The cool and sunny Sunday afternoon was excellent for mountain bike riding. Caught by the camera, a group of enthusiasts who passed by the Executive Suite of The Hur Herald, a half-dozen folks from Calhoun and Roane.

Among them Jeff Fetty, my most faithful paper boy from Spencer in the 1960's, now grown up, who helped organize the mountain bike race around Charles Fork Lake in Roane County and is among the most highly recognized modern-day blacksmiths from Appalachia. The Fetty family has been scattered around Roane and Calhoun most of last century, and some of them I count as great friends from earlier times.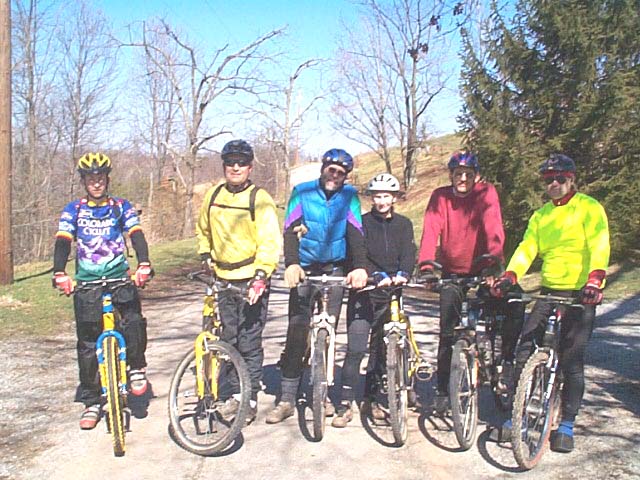 Left to right, Tyson Price, Don Price, Jeff Fetty, Charlotte Fetty, Bob Mertz and Mike Offutt

Donnie Price said the group was going to spin around the Joker Ridge, drop down on Rowel's Run and back to Hur. Fetty wanted to know "Where is it?" the Village of Hur, that is. He has not yet been blessed with the psychic sense to identify the village, but if he returns a few more times, its presence will become clearer.

I'm sure they had a comfortable ride on today's lightweight bikes. In the good old days when life was really tough, I rode my "really heavy" Schwinn around the same ridge. That was a work-out.

The Appalachian Bike Classic will be at the Calhoun County Park on June 16th.