The WV Legislature under pressure from big money oil, gas and mining interests will try again this year to eliminate the "Inventory Tax," which will be devastating to rural counties with a small tax base.

The issue will likely be placed on the ballot as a Constitutional Amendment, which if passed will mean zero dollars from those companies, such as the $1.2 million estimated taxes to Calhoun from TransCanada's compressor station in Calhoun.

The measure will likely have a caveat on a string for voters, it eliminates their taxes on vehicles, and is likely to pass.

The legislature must come up with other taxes if the Inventory Tax is eliminated, and will likely be shifted to individual taxpayers.

One proposal is to allow counties to add a 1% retail tax, but in rural counties like Calhoun where retail sales are very low, it is a drop in the bucket.

If the tax is eliminated, not only will the cash-strapped county budget take a beating, but the Calhoun school funding would like experience the greatest suffering. - Bob Weaver

ONE YEAR AGO: IT'S OFFICIAL! GROUNDBREAKING $94 MILLION COMPRESSOR STATION - "Lifesaver For Calhoun"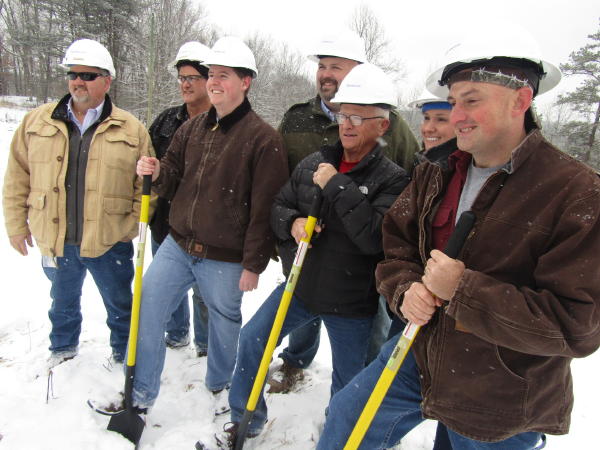 GROUNDBREAKING: TRANSCANADA PARTNERS, CALHOUN
COMMISSIONERS - (L-R) Tim Chambers, Earl Vineyard,
Commissioner Michael Hicks, Matthew Franklin, Commissioner
Chip Westfall, Brittany Carns, Commissioner Kevin Helmick
By Bob Weaver Jan. 2018
It's official.
The ground was broken January 16, 2018 for the $94 million White Oak Compressor Station in northern Calhoun, with construction expected to be completed by the end of 2018.
The compressor station, one of three on the 165-mile Mountaineer Xpress development, the total project costing more than $2 billion, will bring several thousand jobs to the region.
Calhoun Commission President Kevin Helmick said, "This is the best news for county residents into the 21st Century, likely since the discovery of oil and gas reserves in the early 20th Century."
"We welcome TransCanada with open arms," he said.
"After three years of continuing negotiations, meetings, and phone calls, we have arrived at this moment, the beginning of a new era for Calhoun County," Helmick said.
He said rural counties like Calhoun have long struggled to make shrinking budgets work, with new demands from the state and a declining tax base, the struggle has gotten harder and harder every year.
The project will bring a projected $1.2 million in taxes annually to county coffers, with the WV state school system, under code, taking about 65% or $800,000.
The county government will get about 35% or about $400,000.
Earlier efforts by the commission to develop a method which would have allowed the school system to benefit from the proceeds failed, and then TransCanada was not in favor of a PILOT (Payment in Lieu of Taxes) Plan.
Commissioner Scottie "Chip" Westfall, II, said, "I'd like to show my appreciation for TransCanada's investment in our community. I am not merely talking about the dollar investment that will be provided with the White Oak Compressor Station, the Mountaineer Xpress Pipeline, but the many jobs and economic development that will come from this project."
Westfall said TransCanada has donated $12,500 to the Calhoun County Park on the commission's behalf, "An act of citizenship that we deeply appreciate. We have spent three years working hard together to make this project happen, and we now look forward to a continuing partnership for the future."
Commissioner Michael Hicks said he'd like to welcome TransCanada to Calhoun County.
Hicks said, "This project couldn't come at a better time for the county. For years the county has had to do more and more with less, but hopefully with the added revenue the county can help sustain vital services such as law enforcement and EMS, promote the county's parks, and promote the county to new business and industry."
Scott Castleman, manager U.S. natural gas communications for TransCanada, the Columbia Gas Transmission parent company said, "There will be big dollars coming into the state of West Virginia."
Thousands of people are going to work in West Virginia on the pipelines, he said.
"This is going to be a lifesaver for Calhoun County," Helmick said.
See GROUNDBREAKING TODAY ON $94 MILLION CALHOUN COMPRESSOR STATION - "Not A Day Too Soon"