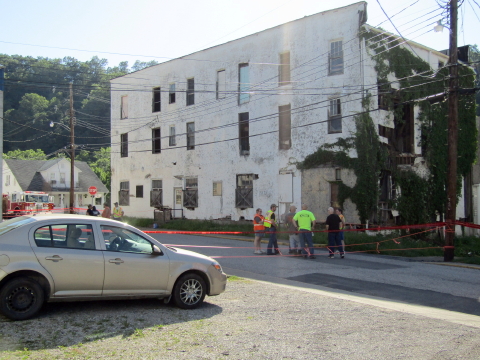 Section of Mill Street and Hardman Alley cordoned off after
debris falls from dilapidated Rainbow Hotel in Grantsville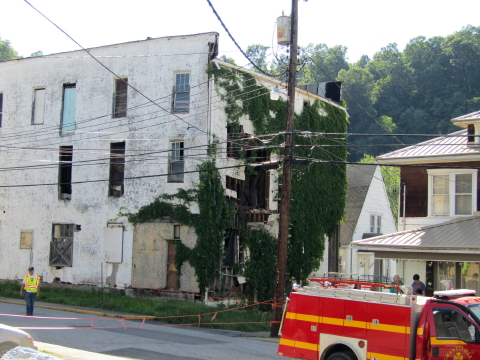 Nearby houses (right) near the hotel are at risk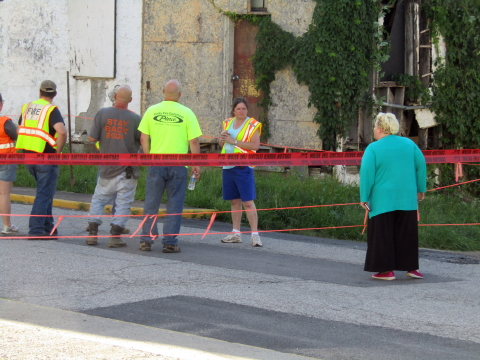 Occupant of nearby house vents anger regarding hazard
By Bob Weaver 2017
Lord love a duck, pieces of the long decaying Rainbow Hotel in Grantsville fell from its walls in 2017, with some debris falling onto a nearby Court Street house, whose residents were not at home.
The 1921 hotel holds memories for a couple generations of Calhoun citizens, described during its dedication "beautiful inside and out and would grace a much larger town."
In serious danger is a two story house across Hardman Alley on Mill Street, once occupied by one-time Grantsville Police Chief Dudley Lutz.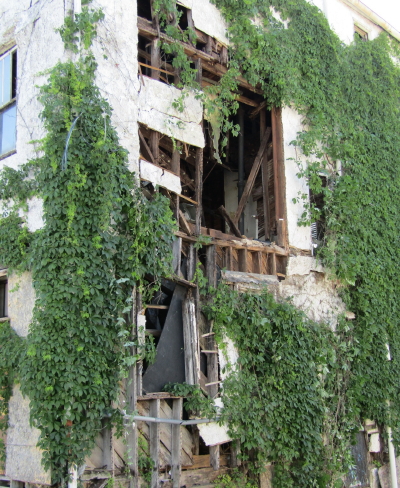 Hotel has been decaying for 25 years, declared
a fire and safety hazard a decade ago
Reports indicated the incident was related to a collapsing staircase in the three story hotel, although local residents said pieces of the building had been falling to the street for several years.
Another resident said the rear of the building had an almost three story crack, which indicated the rear section was at risk of collapse, a hazard to homeowners and pedestrians.
The area immediately around the back section was cordoned off, closing traffic on Mill Street and Hardman Alley.
Responders advised occupants of the nearest houses to vacant, with at least once family complying.
The Town of Grantsville has made several efforts to have the building razed, falling in disrepair for the past 25 years.
Some of the local residents affected by the collapsing building said it had not been removed because of the costs of asbestos abatement, but a decade ago I was driving down Court Street when a high wind swept through, blowing a "ton" of dust and debris out of the windowless building.
Asbestos gone?
In 2005, former Mayor Wilbert Kerby said he did not receive a response after writing a letter to the owner of the old Rainbow Hotel building, which the town considers a safety and fire hazard.
In 2012, then mayor Curtis Garrettson, said the project to raze the old Rainbow Hotel with $160,000 available through FEMA had fallen through, linked to the inability to get a response from the owner.
Lord love a duck, what to do.
The owner of the building, Frank Masiarczyk, Jr., was summoned to the location.
PETITION REQUESTS REMOVAL OF OLD RAINBOW HOTEL - Fire, Safety And Health Problem
THE RAINBOW'S BRIGHTER DAYS - Sodas, Jukebox And "Modern" Rooms, Robert Kennedy Sat On Front Porch
FADED MEMORIES: ROBERT KENNEDY HATCHED DEAL ON RAINBOW HOTEL PORCH - Now Dilapidated Hazard