UPDATE 11/20/2014- State Police have not released new information regarding the status of an investigation into the death of Lynette Pauline Headley, 59, of Grantsville.

The agency told state media they were investigating Headley's death as suspicious, a death that could have resulted from a domestic dispute.

Headley, according to 911 reports, was discovered at her residence by responders as not breathing, reported as a code. He was apparently resuscitated and taken to Minnie Hamilton Health System, after which she was life-flighted to a medical center where she died.

UPDATE 10/14/2014 - State media is reporting that State Police in Grantsville say early indications related to the death of Lennette Pauline Headley, 59, that she may have been killed.

Police are saying the death may have resulted from a domestic dispute.

They identified her significant other as Mark Cunningham, 40.

CHARLESTON GAZETTE STORY

GRANTSVILLE, W.Va. -- West Virginia State Police are investigating the death of a Calhoun County woman who was found unresponsive at her home near Grantsville last week. State Police spokesman Lt. Michael Baylous said Calhoun County emergency service responders went to the home of Lennette Pauline Headley, 59, on Thursday after getting a call that Headley was unresponsive.

Headley was first taken to Minnie Hamilton Health Systems, then flown by helicopter to St. Mary's Hospital in Huntington, where she died, Baylous said.

Headley lived with her boyfriend, Mark Cunningham, 40, at the home on Woody Lane south of Grantsville, Baylous said.

Baylous said State Police believe the death may have resulted from a domestic dispute. He said troopers are investigating the incident as a possible homicide.

Headley's body was sent to the state medical examiner's office for an autopsy.

METRONEWS STORY

GRANTSVILLE, W.Va. - State Police are investigating the death of a Calhoun County woman who died last week after being found unresponsive in her Grantsville home.

State Police spokesman Lt. Michael Baylous the woman was identified as Lennette Pauline Headley, 59.

Troopers were awaiting the results of an autopsy on her body on Monday to confirm the cause of death, but early indications were she may have been killed.

Headley reportedly shared the home with her boyfriend.

No other details were available.

WSAZ-TV STORY

CALHOUN COUNTY, W.Va. (WSAZ) -- The death of a woman whose body was found last week in her home is being investigated, West Virginia State Police say.

Troopers said Lennette Pauline Headley's death may be suspicious.

While investigators are waiting for autopsy results, early indications show Headley may have been killed at her home in Grantsville.

Headley, who was 59, lived in the home with her boyfriend.

CHANNEL 13

GRANTSVILLE, WV - West Virginia State Police are investigating the death of a Calhoun County woman. Emergency responders found Lennette Pauline Headley in her home after receiving a call that she was unresponsive.

Headley, 59, was initially taken to Minnie Hamilton Health Systems, then flown by helicopter to St. Mary's Medical Center in Huntington, where she died, according to State Police spokesman Lt. Michael Baylous.

Lt. Baylous also confirmed that Headley lived with her boyfriend, Mark Cunningham, 40, at the home on Woody Lane south of Grantsville, WV.

State Police believe Headley's death may have been the result of a domestic dispute but troopers are awaiting the results of an autopsy report. They are investigating the incident as a possible homicide.

ORIGINAL HUR HERALD STORY SATURDAY 14/10/11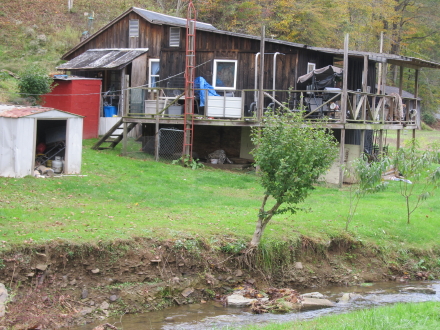 Lennette Pauline Headley's residence on Phillips Run
near Grantsville, where she "coded" Thursday
By Bob Weaver
State Police are investigating suspicious circumstances that led to a Grantsville woman's death, although they have not confirmed the investigation.
Lennette Pauline Headley, 59, died in a Huntington hospital Friday.
She was a former employee of Stump Funeral Home and private home caregiver.
It could not be confirmed if her body was sent to the state medical examiners office for autopsy.
Headley lived with her significant other, Mark Cunningham, 40, with whom she had a nine year relationship. Cunningham was recently released from jail, having had multiple arrests, and was reportedly questioned regarding her death.
Police have yet to release any details regarding the incident, but they have been questioning neighbors and have searched Headley's residence.
Minnie Hamilton EMS and members of the Grantsville VFD responded to the residence at 11:30 a.m. Thursday to what was described as "a working code."
The women was taken to Minnie Hamilton Health System, after which she was life-flighted to a medical center.
Three units of the WV State Police and a Natural Resource Police officer responded to the scene.
The State Police does not release public information locally regarding incidents, but details will likely be given to state media.
Graveside services will be in the family cemetery at McFarlan at 12:00 p.m. on Wednesday, October 15, 2014. Rev. Randy Wilson will officiating.