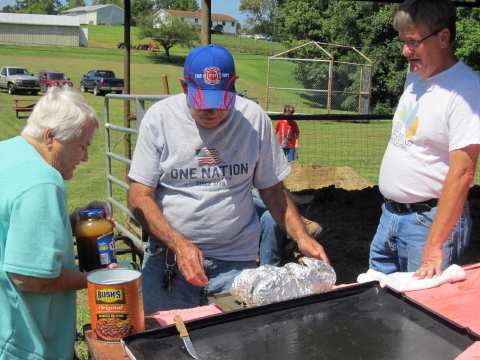 (L-R) Donna Cain, Jim Yoak, and ox master
Rev. David Weaver at the pit during the 2013 Roast
The 55th Annual Mt. Zion-Calhoun County Ox Roast will be
held at the Mt. Zion Community Park today.
Ox Master David Weaver says work for the 55th Annual Mt. Zion Ox Roast will start on Thursday evening at 6:00 p.m. "We will meet to prepare the pit, clean, do weed trimming and just making the park look nice. Also we will be making Cole Slaw," he said.
On Friday morning helpers will meet to start the fire at 6:00 a.m. which will need tended and stoked throughout the day. Between 5 and 6 p.m. will be time to cut and wrap the meat and place it in the pit.
"We cheerfully welcome all volunteers to come and join us," Weaver said.
On Saturday the work starts around 9:00 a.m. with set up of the serving line and getting things ready to go.
Serving starts at 11:00 a.m. and continues until 5:00 p.m., closing out with the annual auction.
Pit-roasted Angus beef sandwich, cole slaw, baked beans, tomato, cake and drink, meal is $8.00. Individual sandwiches are $5.00 each.
All crafters are invited to come and set-up a table or booth to sell local non-food items, also asking for an item to be donated to the fair.
The David Bowen family will be singing Saturday afternoon.
"As in years past we need cakes to serve, tomatoes to slice and your fair exhibits. (garden vegetables, canned goods, craft items and misc.) Most of all we need your help!"
"Please come join us for your Ox Roast. Invite your family, neighbors and friends and help spread the word," Weaver concluded.
For more info, questions or to volunteer help call: Roger and Judy Jarvis 304-354-6791; Donald and Pat Little 304-354-7025; or David and Sandy Weaver 304-354-6217.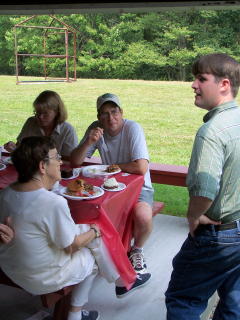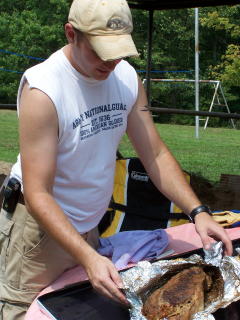 Calhoun Assessor Jason Nettles (left) visits; Ox Master
Phillip Perkins (right) unwraps some tasty beef at the 2007 event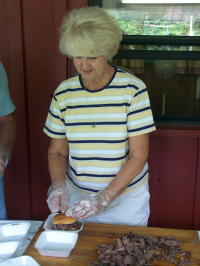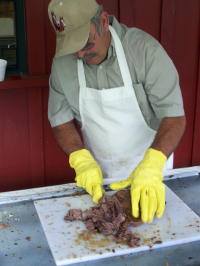 Mt. Zion natives JoAnn Propst Stevens and Donald
Little help serve the tender beef at the 50th Ox Roast