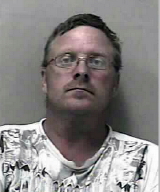 A Calhoun man, Larry Dana Harold, 44, was arrested Wednesday night at a Arnoldsburg residence and charged by State Police with impersonating an officer.

Harold was also charged with destruction/injury to property, burglary/daytime breaking and entering and trespassing.

Harold, according to the criminal complaint, attempted to gain entry to the Langford residence after walking around the Arnoldsburg area yelling and screaming, then beating and kicking the door of the residence.

Harold, according to the complaint, called the 911 Center several times demanding to speak to (Cpl. J. B. Hunt), saying that he was "working for Trooper Hunt," and that multiple residences and vehicles were transporting or manufacturing drugs.

The complaint indicates Harold threw a cinder block through a Pontiac Firebird glass, and also damaging the house in an attempt to gain entry.

Harold is in Central Regional Jail with bond set at $17,500.