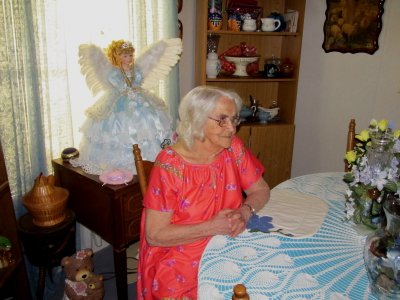 Stinson woman 97-year-old Halcie Shaffer has "kept up"
By Bob Weaver
Halcie Metheney Shaffer of Stinson (Mud Fork) Road is a remarkable woman edging toward 100 years old.
In very recent years she gave up doing her own weed-eating and yard work, while maintaining a well-kept house, and some neighbors are helping her with chores, including rebuilding her back porch.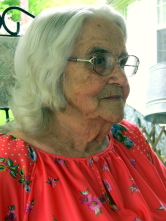 Most remarkable is her mental alertness and spirit through her long life, while suffering through the loss of her husband Homer Shaffer in 1990, and out-living four of her five children.
"Cancer has taken about everyone in my family," Halcie said, "I've even had a bout with it myself."
Three sons, Tom, Russell and Mitchell, are well-remembered by Calhoun County High School alumni, most of them playing football for Wayne Underwood.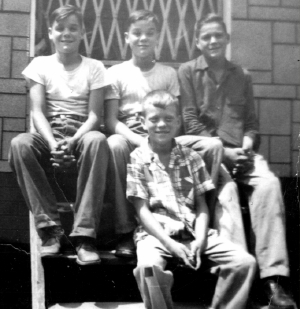 Four of Halcie's boys (L to R) Russell, Roy
(living), Lowell and Mitchell Shaffer at homeplace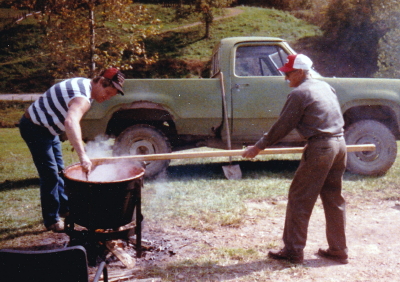 Mitchell Shaffer with his dad Homer makin' apple butter
Her five-year-old son Melvin Shaffer was struck and killed by a car in 1944 on Route 16 at Chloe.
"It's been the hardest part of my life," she said, "A hole that's left in your heart that can never be filled."
Her surviving son, Roy, lives a few miles from her homeplace.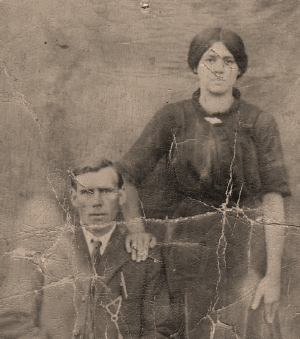 Milton and Sadie Jarvis Metheney, Halcie's parents, early 1900s
Halcie grew up in the Metheney Ridge area of Stinson, the daughter of Milton and Sadie Jarvis Metheney, living in a remote backwoods that has only recently been re-opened with road improvements.
She had eight siblings, a family of five boys and four girls, and attended the small Metheney Ridge church that was built in 1914 by William Metheney, a building that doubled as a school for many years.
Nelle Metheney Bailey wrote in the 1980's about the church-school. "There was serious deprivation that students and teachers suffered in the one-room school, a lack of books and printed material."
Ms. Bailey, who taught the school in 1930, said it was difficult to get teachers, that William Metheney, during the early part of the 20th Century, believed that the church was more important than the school.
Bailey said, "Most of his (Metheney) family had little schooling and could only write their names. That was considered all that was necessary for a man to get along."
"When he began to have grandchildren, it became clear to him that they would need more education to get along," she said, and many of them continued their education by going to high school.
Later, during the Great Depression, Halcie Metheney walked to Rt. 16 to catch a bus to attend Calhoun County High School in Grantsville.
"We walked down to the store on Walker Creek, and once in a while went to town," Grantsville or Spencer.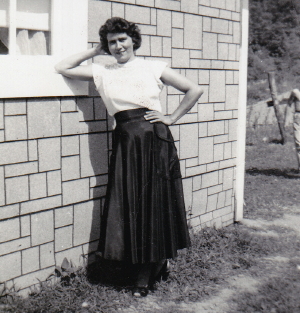 Halcie Metheney as a young girl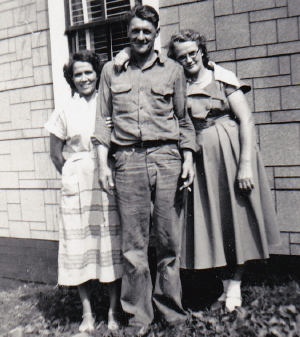 Halcie (left) with husband Homer (center) and
Homer's sister, Lula Shaffer Carson (right)
At 18, Halcie married neighbor boy Homer Shaffer in 1936, they spending most of her life in the Calhoun hills, with a 10-year experience living and working in Ohio.
Homer spent most of his life mining coal in Kentucky, "While I stayed home and raised the kids. He came home on weekends," she said.
"I've had to work really hard all my life to make it," she said.
Not unlike most depression era survivors, she recalls how families survived in Calhoun by growing crops to can and dry, butchering their own livestock, hunting game, and catching fish.
Halcie, who frequently smiles, has survival skills that rise to a high calling, saying "I read a chapter of the Bible every day to give me hope.
She concluded, "I've had a pretty good life."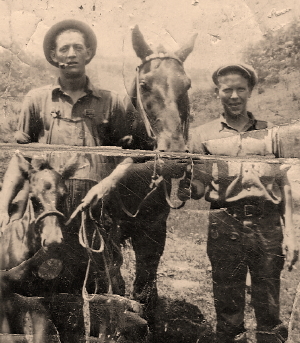 Ford Shaffer and Charley Watkins coming
in from the field during the Great Depression
See   METHENEY RIDGE CHURCH-SCHOOL STILL STANDING - Separate Seating For Men And Women