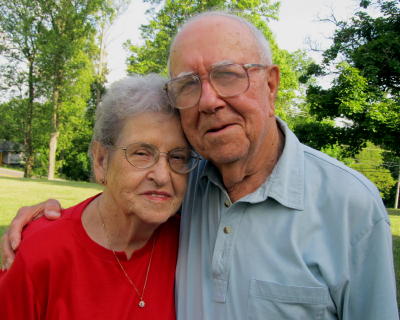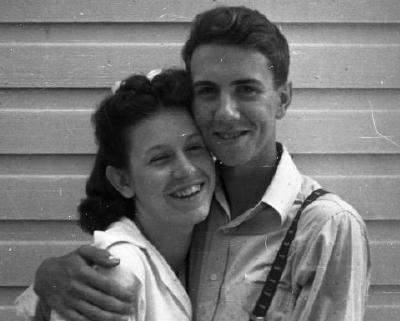 Von and Freda Yoak (top) celebrating 70 years of married life in 2012; courting at Calhoun County High School in 1941 (bottom)
By Bob Weaver
Ivy Von Yoak met Freda Radabaugh when he was 16 and she was 14 while they attended Calhoun County High School in the early 1940s, marrying in 1942 at ages 19 and 17.
They celebrated their 70th wedding anniversary on June 1, with a special celebration set for Sunday at the Pleasant Hill United Methodist Church.
Freda said their long marriage is centered on "being a Christian, attending church and loving each other."
Von said his most valuable lesson in life was coming of age in the Great Depression. "The depression was my greatest teacher, the only way to go was up."
Friends and family will honor the couple at the church fellowship hall from 2:30-5:30 p.m. Sunday.
The Yoaks have long been involved in the Calhoun community and church activities. They are members and officers of the Order of the Eastern Star No. 7 in Grantsville for over 60 years They have active members in the WV Eastern Star Choir for 38 years, he often being a featured soloist.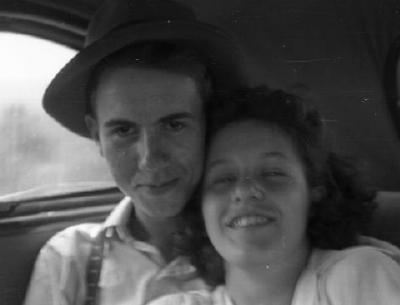 Courting as students at Calhoun County
High School, he was 16 and she was 14
Von has volunteered to sing at nearly 3,000 funerals.
He is a retired businessman of 40 years, co-owner of Grantsville Appliance Appliance and Dairy Products, Inc. Freda co-owned and operated the Yoak Insurance Agency for 25 years.
Von serves as choir director at Pleasant Hill United Methodist Church, and both are Friends of Minnie Hamilton.
Freda was a Folk Festival Belle in 2007, her mother Fannie being selected the first Belle from Calhoun County years before.
They have two daughters, Karen Lewis and husband Bill of Winston-Salem NC and Sharon Turner and husband Dan of Martinsburg, who will be hosting the anniversary event.
The Yoaks have four grandchildren and eight great-grandchildren.
They enjoying traveling, spending part of the winter in Florida with a group of friends they have known for over 20 years.
Von, 89, has been an avid golfer. Yesterday, he spent the day golfing with his long-time friend Glen Fowler, 90, of Grantsville.
GOVERNOR BOREMAN SLEPT HERE - His Mammoth Bed Rests In Calhoun County
SUNNY CAL JOURNAL - TV Comes To Calhoun, All You Could See On One Channel