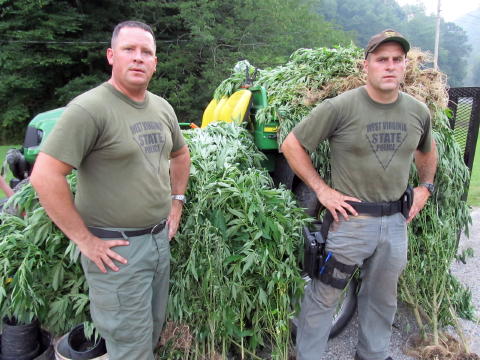 Over 300 marijuana plants confiscated after flyovers in
Calhoun Thursday, Sgt. B. S. Snodgrass, Spencer Detachment
(L) and Sgt. O. S. Starsick, Grantsville Detachment (R)
The West Virginia State Police's marijuana eradication program netted over 300 more plants Thursday in the general area where 1,300 plants were found earlier in the week.
Sgt. O. S. Starsick said 244 plants were discovered in a wooded area across the road from Tuesday's large discovery on Little Creek Road, which he said had a street value of $2,600,000.
A National Guard chopper spotted several grow areas in the Little Creek and Richardsonville Road area Thursday, an area where Calhoun, Wirt and Roane County converge.
"We believe Thursday's patches are linked to the large grow operation eradicated on Tuesday," said Sgt. Starsick, likely the largest marijuana crop eradicated in Calhoun history.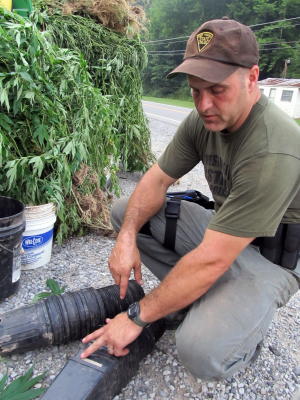 Grow operations involve potting plants, labeling and
digging holes with motorized auger, says Sgt. Starsick
Police arrested Douglas Cecil Lynch, 38, of Creston and Nicholas W. Davis, 49, of Big Bend, charging them with manufacturing a controlled substance and conspiring to manufacture a controlled substance.
Officers said the two subjects were caught planting more plants in a remote area off Little Creek Road.
State Police were burning the marijuana Thursday evening. Sgt. Starsick said Thursday the US District Attorney in Clarksburg is looking at bringing a case against individuals involved with an indoor grow operation on Lower Nicut last week.
State Police also discovered plants in the Stinson-Mud Fork area.
See related stories;
STATE POLICE ERADICATE HUGE MARIJUANA OPERATION IN CALHOUN - 1,300 Plants Street Valued $2,600,000, Two Caught Planting Arrested
SURVEILLANCE CAMERAS CAUGHT POT GROWERS - "1,300 Plants And Counting"
STATE POLICE DISCOVER MARIJUANA GROW OPERATION ON LOWER NICUT - Charges Pending Following Fly-Overs