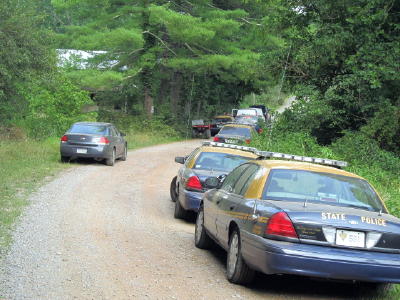 State Police respond to remote Little Creek
area confiscating huge marijuana grow operation
By Bob Weaver
The WV State Police made at least two arrests Tuesday evening following the discovery of a huge marijuana grow operation at the head of Little Creek Road, a few miles from Creston.
Grantsville Detachment Commander Sgt. O. S. Starsick said Tuesday night, "Officers had confiscated 1,300 plants and still counting."
It is likely the largest crop of the illegal plant confiscated in the county.
Sgt. Starsick said, "A good marijuana plant could have a street value of $2,000.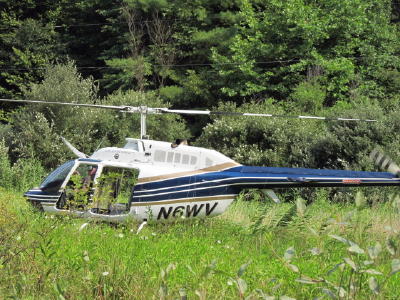 Chopper lands at head of Little Creek Road
following surveillance of huge marijuana field
With 1,300 plants already confiscated, the crop could have a value of $2,600,000 or more, he said.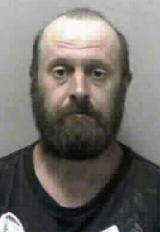 Police have arrested Douglas Cecil Lynch, 38, of Creston (pictured left) and Nicholas W. Davis, 49, of Big Bend, charging them with manufacturing a controlled substance and conspiring to manufacture a controlled substance.
Police said the two subjects were caught planting more plants in their operation.
Bond has been set at $50,000 for each of two the men. Davis had already posted bond Tuesday evening and Lynch is being held in Central Regional Jail.
The eradication effort was under the direction of the State Police's Division of Criminal Investigation, who conducted the surveillance of the patch.
A chopper landed on Little Creek near the Ace Haney Hill, with a number of officers going to the remote, wooded area near the abandoned Walter Villers farm.
Last week, following chopper flyovers, State Police obtained a search warrant for a residence on Lower Nicut, confiscating an indoor grow operation of about 100 plants.
"We also discovered a considerable about of dried marijuana," Sgt. Starsick said.
Starsick said during last week's flyovers, officers spotted two other locations in the Rt. 16, Stinson, and Mud Fork Road area.
"Charges are forthcoming against individuals who have been identified," indicating the investigations are continuing.