By Bob Weaver

There are still a few remaining Calhoun women who will be remembered as women of America's "greatest generation."

They are rapidly fading into history, women that are part of a generation that was united by a common purpose and common values - duty, honor, economy, courage, service, love of family and country.

In my rural hamlet of Hur, they are about all gone, most recently with the passing of Elah Starcher Whisman at age 94, a woman we frequently wrote about and honored over the years.

Her death, compounded by the passing of Eulanee Stump Hathaway, 95, and Emma Stalnaker Deel, 91, reminds us of the contribution of many Calhoun women from that generation.

These woman survived with hard work and perseverance when the nation was balanced precariously between the darkness of the Great Depression on one side and the woeful storm, death and destruction of World War II on the other.

Broadcast journalist Tom Brokaw wrote in his 1998 book "The Greatest Generation," that he believed it was the greatest generation any society has ever produced.

"It was a critical time in the shaping of this nation and the world," he said, with succeeding generations barely able to recall their efforts.

Calhoun men and boys by numbers far exceeding national averages, marched off to war, leaving their mothers and dads, wives and girlfriends to fend and serve, and fend and serve they did.

"At a time in their lives when their days and nights should have been filled with innocent adventure, love, and the lessons of the workaday world, they were fighting in the most primitive conditions possible across the bloodied landscape of France, Belgium, Italy, Austria, and the coral islands of the Pacific," Brokaw wrote.

Franklin Delano Roosevelt said, "This generation of Americans has a rendezvous with destiny."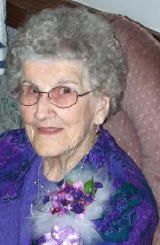 Eulanee Stump Hathaway (pictured right) who died last week, was described by her family as a Christian Saint, with her obituary reflecting on her work hardiness to take care of her family of seven.
She married Orvan Todd Hathaway in 1932 in the middle of the Great Depression, raising cattle and huge gardens while also working away from home at Rubber Fabricators, Dollar General, Godfrey's Grocery, Bob Morgan's Grocery, Gherke's Dept. Store, and Drug Mart Pharmacy.
She was described as accomplished seamstress and made certain each of her children received gifts of her homemade quilts. The dinner table was always sufficient for her children and she was the last to eat to be assured everyone else had plenty.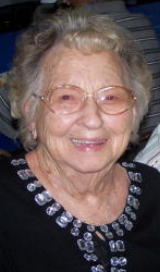 West Forker Emma Stalnaker Deel (pictured left) who died last week, was also a proud Calhouner, often recalling the legacy of her family life. She initiated the setting of new tombstones for Mike Fink and the unknown Indian, buried on her property in the late 1700s.
"I've had a really good life," rejoicing in her trials and successes, being involved in community life until recently when she went to Ohio to live near her sons.
A survivor of the Great Depression, she said, "My dad worked in the timber. Everyone worked hard. We didn't have a lot, but it was a good life."
"I walked a little over two miles to the Minnora two-room school on Sears Run, blessed with a wonderful teacher, Ivah Brannon." She went to high school in Grantsville, an effort that required early rising.
We honor these woman, and all Calhoun woman from the "greatest generation."