From Calhoun High School Web Site

Coach Mike Stump has had a season to remember as Calhoun's wrestling coach. His team has broken school records, won the LKC championship, placed second in the state and set many individual records. We talked with him about his wrestling and coaching career to discover how he feels about his teams.

Coach Stump wrestled for the Red Devils from 1966-67 through 1969-70. He was an LKC champ in 1970

He began his coaching at Minnora Elementary School in 1977, and in the 1987-88 season, he started coaching on the varsity level at CHS. Winning the school's first regional title in 1997 and the first ever LKC Championship in Calhoun's history in 2002 are special moments to Coach Stump.

Coach Stump's main focus and goal is to instill respect, discipline, and positive attitudes in each wrestler that they can use throughout their lives. He feels that wrestling definitely teaches all those qualities.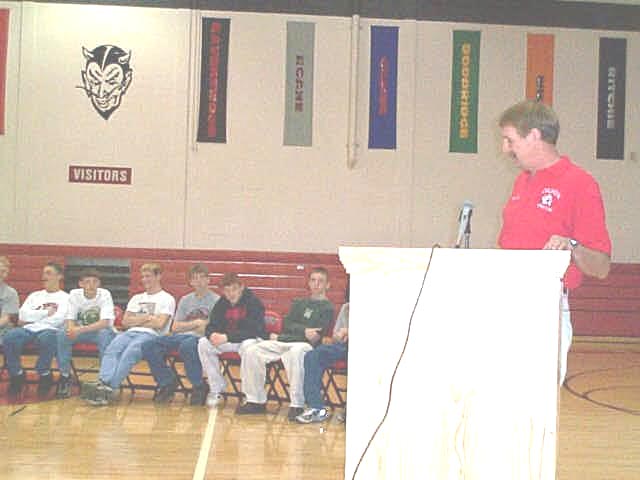 Coach Mike Stump addresses his team
He shared the following thoughts: "Having coached wrestling in Calhoun County for 25 years, there have been some very emotional highs and lows. Watching wrestlers win or lose a states' finals match has to be the most intense and exciting, yet possibly the most disappointing experience a wrestler or coach must endure. All the effort it takes to ever get there has to be one of life's most difficult tasks. For those who reach the top of the podium, congratulations. To those who feel one match short, I'm equally proud of you. Winning and losing doesn't always define a champion."
His record as a coach is as follows:
Dual record 174 – 47 – 6
Tournament record 662 – 210 – 1
Total overall record 836 – 257 – 7
15 state finalists – 8 champions
2 Most Outstanding Wrestlers: Randy Wilson and Chris Morris
25 LKC Champions – 2 Most Outstanding Wrestlers: Paul Staton and Justin Ashley