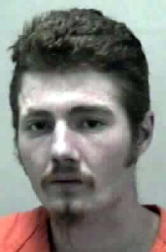 Police have been responding to numerous 911 calls over several days to the Right Fork of Crummies Creek where a 22-year-old man has reportedly been standing by the road with a jug of gasoline, huffing the substance.

State Police arrested Justin Lee McKinney (left) Thursday on a charge of "breathing an intoxicating substance." He is in Central Regional Jail on $1,000 bond.

The criminal complaint says the officer, J. B. Hunt, "observed this subject...squatted down with a white in color plastic container in his hands and repeatedly bringing...to his face, sniffing same."

The officer described the smell of gasoline, questioning McKinney about the contents of the container, after which McKinney replied, "You know what it is," according to the criminal complaint.

Workers for the WV Department of Highways and a worker for Frontier Communications were among several complainants regarding the man's threatening behavior.

McKinney is reportedly under investigation related to other situations.

McKinney has reportedly run his 43-year-old mother from her camper dwelling, and she has been sleeping in the woods for several days.

Neighbors have indicated McKinney has knocked-out the windows of his mother's camper and destroyed property.

During one police investigation, McKinney had been in an altercation with his uncle Tom Hardway, a pipe was reportedly used as an instrument in the affray.

Authorities apparently started an effort to do a mental hygiene commitment on McKinney, but that effort failed without a complainant, indicating local residents were too fearful to give testimony.