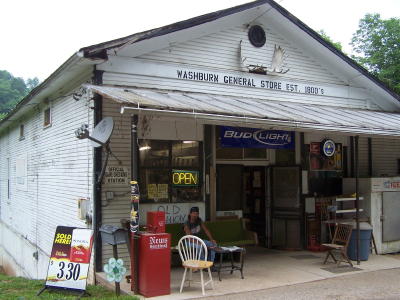 Ritchie's Washburn General Story keeps on truckin'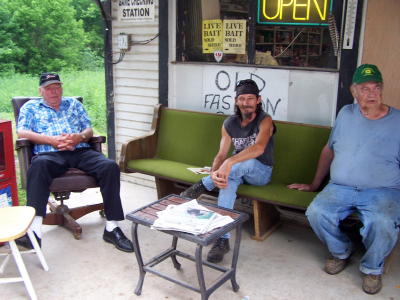 Porch sittin' is still a regular practice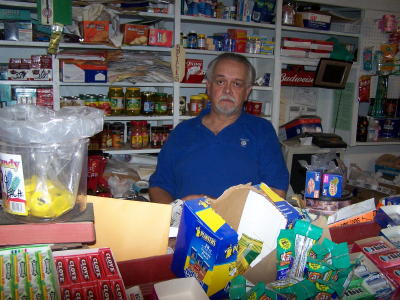 Mark Lipscomb says he is the country
store's eighth owner since about 1870
The Washburn General Store in Ritchie County is a hold-over from time's past, with benches, tables and encouragement to sit a spell on the front porch.
The store dates to about 1870, says current owner Mark Lipscomb.
"We have a little bit of everything," he said, being the eighth owner of the establishment.
The porch sitters said they are among regulars who meet at the store about every day, swap stories and sometimes pick and sing.
"If you haven't heard it, you'd hear it here," said one bench sitter.
In the rear of the store you'll find lots of items and artifacts from the stores earlier days.
Store traffic was busy Saturday, with folks looking for fast snacks, groceries, or beer.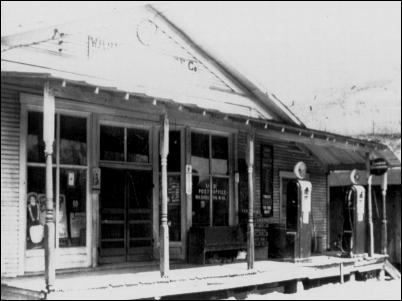 Washburn Store photo 1943
(Edna Nutt Santee Photo)
The old "Washburn Store Company" was owned by Newton, Clyde, and Ernest Washburn in 1943.
Troy Nutt worked at the Washburn store and at the feed store owned by Washburn Brothers in Harrisville for many years.
The Washburn brothers sold the store in 1945, according to Kristen (Nutt) Goodnight, who submitted the old photo.