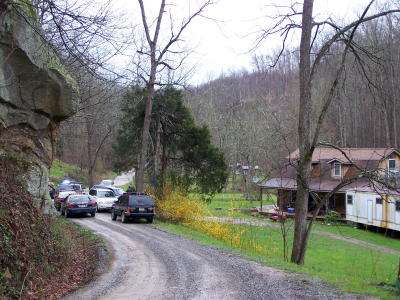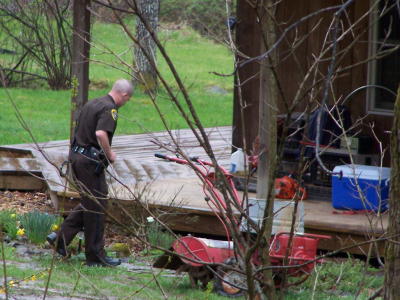 Investigators arrived quickly to a rural Calhoun creek about two
miles off State Rt. 16 at Millstone, following a report of two victims
2009
1:30 PM - Police are investigating what is reported to be a double murder on Left Fork Rd. about two miles from State Rt. 16 at Millstone, known locally as Sycamore Creek.
Calhoun 911 received a call at 11:45 a.m. regarding the discovery of two bodies by a daughter of the couple.
Neighbors have indicated the victims had been shot, with an initial report saying that the house appeared to have been broken in to.
Calhoun DNR officer Eric Bostic was the first to arrive on the scene, a house reportedly built by one of the victims after moving to the rural area about eight years ago.
State Police officers from South Charleston and Spencer have responded to the scene, with the Calhoun Sheriff's Department.
The State Police Crime Lab is arriving on the scene.
UPDATE - A Calhoun couple whose bodies were discovered by their daughter just before noon today, have been identified by the WV State Police as Mike and Julie Flanagan, reportedly in their 50's
Investigators are telling WSAZ-TV they have a strong lead in the case.
A woman, identified as the couple's daughter, called 911 to report finding the bodies, both apparently shot to death.
Their home is on Left Fork Road (Sycamore Creek) near Millstone, a short distance from State Rt. 16 and a few miles from Arnoldsburg.
A woman called 911 at 11:45 a.m. to report her parent's house had been broken into and both of her parents were dead, according to Sgt. Michael Baylous, spokesperson for the West Virginia State Police.