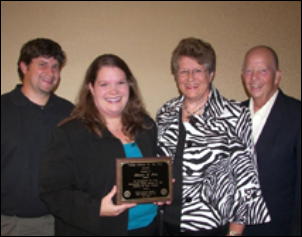 Shannon Jones Johnson pictured with husband, Jeremy
and parents Randall and Sue Jones of Mt. Zion
The West Virginia State Bar Association Young Lawyers Section proudly announces that Shannon S. Johnson, Esq., of Elkins, WV has been named the 2008 West Virginia Young Lawyer of the Year. The award, presented annually by the Young Lawyers Section, recognizes a young lawyer who has brought honor and distinction to the legal profession. In presentation of the award, YLS Chair Marty Wright stated: "Shannon is the exemplification of one who leads by example, and never seeks credit or recognition for her tremendous deeds. Her character and heart are a shining beacon for those in our profession, and her devotion to victims and her community far exceed those ideals that we seek to uphold as lawyers."
Frank P. Bush, Jr., Randolph County Prosecuting Attorney, nominated Mrs. Johnson for this prestigious award based on her exemplary work performance and her commitment to serving the citizens of Randolph County and West Virginia. In his nomination, Mr. Bush said: "Shannon Johnson has thus far in her young career devoted her life's work to public service, protecting children, and helping families in need. There is no higher calling."
Shannon Johnson is an Assistant Prosecuting Attorney for Randolph County, West Virginia. She primarily prosecutes juvenile cases and represents the West Virginia Department of Health and Human Resources in abuse and neglect proceedings before the Circuit Court of Randolph County. In addition, Mrs. Johnson also presents and prosecutes a select number of felony cases each year.
Johnson is the daughter of Randall and Sue Jones of Mt. Zion, WV. Her husband, Jeremy Johnson, is a teacher at Tygarts Valley Middle-High School.
Beyond her outstanding work as an Assistant Prosecutor, Mrs. Johnson is actively involved in many organizations devoted to helping and protecting children and families in need. Mrs. Johnson serves as President of the Randolph and Tucker County Children's Advocacy Centers Board of Directors, President of the Randolph County 4-H Leaders Association, an Assistant Club Leader for the Hi-Fi 4-H Club, a volunteer evening counselor at Randolph County Younger 4-H Camp, and, at times, a volunteer counselor at State 4-H Camps. She also serves as the Treasurer of the Board of Directors for the Home Ownership Center, Inc. in Elkins which assists families in securing their future by becoming home owners.
Professionally, Mrs. Johnson is a member of the West Virginia State Bar Young Lawyers Section Executive Committee, the West Virginia State Bar, and the National District Attorneys Association. She has also presented several workshops for the West Virginia Prosecuting Attorneys Institute.
Prior to her employment with the Randolph County Prosecutor's Office, Mrs. Johnson served as Law Clerk for the Honorable John L. Henning. Mrs. Johnson graduated from West Virginia University with a Bachelor of Arts in Political Science in 1999 and with a Doctor of Jurisprudence from the West Virginia University College of Law in 2002.