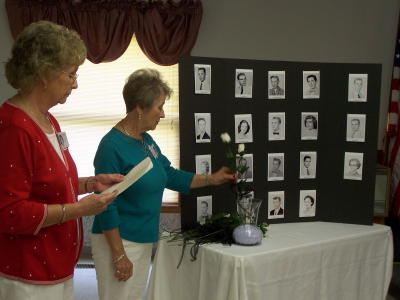 Roberta Offutt Wilson (L) and Dottie Rose Radabaugh place a flower
of remembrance in a vase for the 19 class members who have died...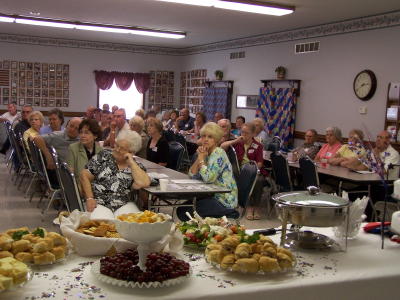 ...while 32 grads and their families recall life and
times at old Calhoun County High School 50 years ago
By Bob Weaver
In 1958 the Everly Brothers big hit was "All I Have To Do Is Dream" and Elvis Presley was making his mark, while Jerry Lee Lewis was pounding out "Great Balls of Fire."
Danny and the Juniors sang "We don't care what people say, rock 'n roll is here to stay." So far it has.
It was graduation time for the Calhoun High class of '58, with an alumnus remembering the look and smell of the old school building in Grantsville, now vacant for ten years.
"It was a place bigger than life," said a 50-year-grad.
Several thousand students have gone through those portals, to be launched into the greater world, few remaining in Calhoun County.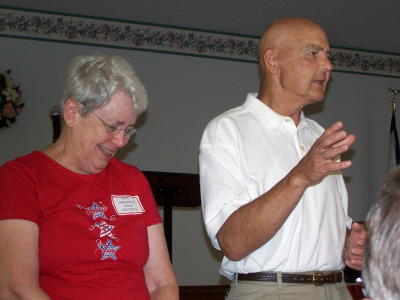 Vearl and Virginia Long Haynes, returning from Arizona, share memories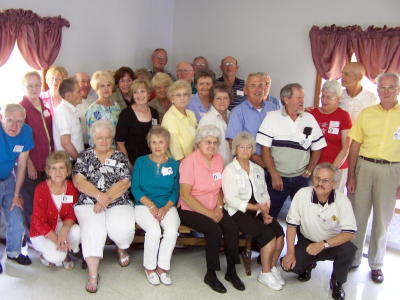 Class congregates for group photo
During the '58 Calhoun High Science Fair, my personal highlight was demonstrating stereo sound, a revolution in 1958. It garnered no attention, as I played "Around the World in 80 Days" through two sets of speakers.
Certainly, life focused around school and school activities.
JoAnn Propst Stevens recalled social life reaching its peak at Cook's Drive-in Theater, one of over 4,000 in the USA, and one of few still operating.
During the summer of '58 "Bridge on the River Kwai" and "Old Yeller," were favorites, along with dozens of B and C monster and flying saucer flicks at Cook's.
Propst marveled that a senior privilege was being allowed to get in front of the line for "hot lunch."
Saturday, thirty-two of the eighty grads enjoyed a special reunion at the Grantsville senior center, recalling school days and catching up with life during the past 50 years.
To follow, more photos, new and old of the Class of '58