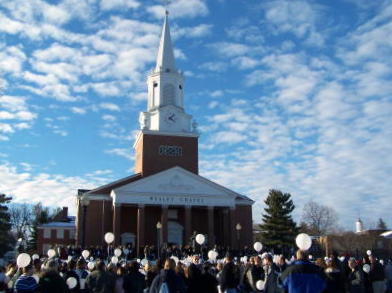 Thousands attend memorial service for Sago Mine victims
By Bob Weaver
Seven years ago the hoot owl shift at the Sago Mine was leaving work and the day shift was coming on.
Life changed in the blink of an eye.
A massive underground explosion killed 12 of 13 miners.
Families began the long vigil at the Sago Baptist Church, while mainstream TV media circled the village, creating such spectacles as announcing the miners had been found alive.
The lone survivor was Randall McCloy, Jr.
Speculation from scanner traffic about the discovery of the men may have led to the quick assumptions the miners had been found alive.
Fox News personality Geraldo Rivera barged his way into the tiny Sago church, clinging to family members while he weeped and wailed.
Since then, numerous investigations and Congressional hearings led to increased mine safety legislation.
New safety standards have been slow moving, with some now in place to protect deep miners.
Following the disaster, there was re-newed awareness about shortcomings regarding mine safety and inspections and how coal companies, more often than not, fail to respond to citations.
Some standards passed by Congress in the wake of the explosion haven't happened, and more recent legislation in the US Senate was killed, a bill that would have closed loopholes mining outfits use to wiggle around violations.
Massey Coal accumulated over $2 billion in unpaid environmental and safety fines before it was sold, with enforcers playing a long-held pretend game of holding the industry accountable.
The Sago company, not unlike other mine disasters, concluded it was an "act of God," related to a lightening strike.
It was apparent the enforcement of safety regulations were still on the back-burner with the more recent Upper Big Branch mining disaster.
Since Sago, federal regulators say the death of 29 miners at Upper Big Branch was "reckless disregard" by Massey in "a workplace culture that valued production over safety," and some officials were held accountable for numerous violations and lying about them.
Upper Big Branch was almost declared "an act of God" by officials.
The Buffalo Creek disaster that killed about 125 people was officially declared an "act of God."
God has always been busy acting upon or neglecting the people of West Virginia, while there is a "War on Coal" in Washington.
Virtually every West Virginia politician in Charleston and Washington continues to call for deregulation of the coal industry.
In fact, it could matter little, because regulations are ignored anyway with the Rule of Law and Regulation selectively applied.
The Sago disaster was followed by a period of mourning for the victims and their families.
A memorable service was held in Buckhannon, slightly tainted by the appearance of the Westboro Baptist Church hate group who picketed the service, claiming miners deserved to die because they were "faggot lovers."
The Herald covered the disasters and the memorials.
LINKS
IN THIS ANCIENT PLACE WE ARE NOT AFRAID - A Miner's Memorial
DAY OF HONOR, HOPE AND HEALING - Messages For Sago Mine Victims
KANSAS HATE GROUP AGITATES OBSERVERS - Miner's Memorial Service Not Disturbed
LEST WE FORGET - Sago Sound And Fury
POLITICIANS "WALKING TALL" AGAINST MINE SAFETY VIOLATIONS - Corporations Owe $35 Billion In Unpaid Fines
RANDAL MC CLOY'S LETTER TO VICTIMS OF SAGO - Some Air Packs Did Not Work
FEDS REDUCED MINING FINES TO A DRIBBLE - Labor Secretary Walks Out Of Capitol Hill Hearing