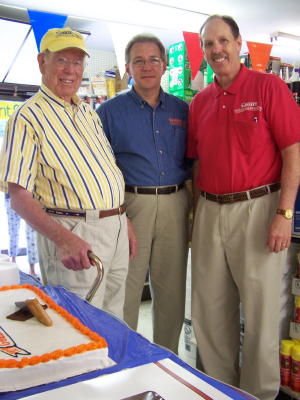 CELEBRATING A CENTENNIAL (L to R) Charles Hardman,
Manager Tom Law and Tom Hardman at Grantsville store
The second and third generation of one of Roane and Calhoun's pioneer families came to Grantsville yesterday to celebrate the 100th anniversary of Hardmans, long known in the area for their hardware and service.
Charles O. Hardman was accompanied by Tom Hardman, one of his three sons in the family business.
"The Grantsville store is a busy place," said Tom Hardman, who acknowledged a number of dedicated employees who have "made it work."
Originally established as Hardman Produce in 1907, Hardman Supply Company has evolved from a rambling wooden building on Court Street to a seven-store hardware and building materials operation throughout West Virginia.
In 1907, Spencer businessman Owen Ruby (O.R.) Hardman merged two businesses, renaming his company Hardman Produce. In 1928, he incorporated as Hardman Supply Company and built a modern brick building on Market Street.
The company expanded further by purchasing produce, wool, poultry and other agricultural goods throughout central West Virginia and selling to customers as far as Cincinnati and Pittsburgh.
Business increased in the 1930's and 1940's by the addition of product lines in hardware, appliances and farm machinery.
Charles O. Hardman, O.R.'s son, joined the firm after graduating from West Virginia University and serving in the Army during World War II.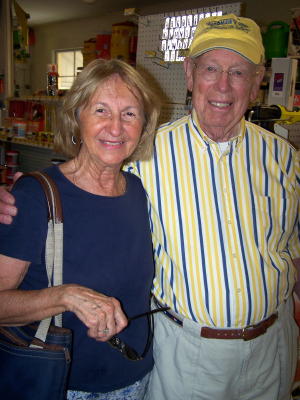 A chance meeting between Charles O. Hardman and Kathryn Smith
Saye, a descendant of Calhoun's George Washington Hardman
family and daughter of the late Lewis and Thelma Hardman Smith
Under his direction, the business moved more in the hardware direction and slowly phased out the produce department. Expansion continued in the following decades with the addition of building supplies, ready-mix concrete plants, and additional stores in neighboring communities.
The 1970's brought the third generation into the company when Charles's sons, Stan, Fred and Tom, each graduated from West Virginia University's College of Business & Economics.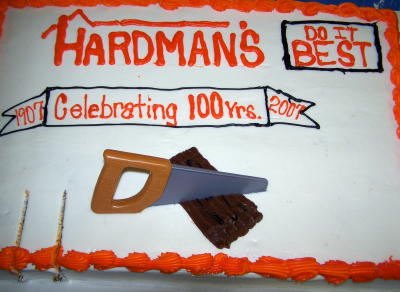 The brothers increased the firm to seven stores and then added an aggressive advertising program, up-to-date computer systems and membership in Doit Best.
As markets changed, the company continued its evolution. Niche opportunities developed with the addition of a RadioShack franchise and Design Centers to the stores.
In spite of all the growth, the chain-store mentality will never be found at this family-owned operation.
To stay competitive, today each store has adapted its own identity to serve the local market. For example, the Summersville and Moorefield stores have been remodeled to reflect an early 20th century atmosphere and evoke a sense of nostalgia for tourists who visit the area.
But even with the constant changes, the brothers agree there's one thing that has remained the same: their business is based on the fact that they hire good people.
While most customers don't know the three brothers, they continually patronize Hardman's because of the caring and knowledgeable staff in the store.