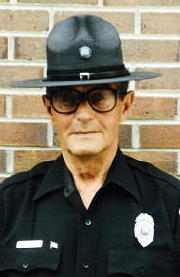 A long-time Grantsville, West Virginia police officer has died.

Basil "Rex" McCartney served as Chief of Police for 32 years.

McCartney will be remembered as a dedicated policeman who was fair and honest, spending his lunch hour every day helping kids cross the street at the old Calhoun County High School.

He died April 29, 2006 after an extended illness. His wife of 59 years, Virginia "Faustine" Duskey McCartney passed away recently of a heart attack.

He was a member of Eureka Long No. 40, a 32nd degree Scottish Rite Mason and Grantsville Chapter #73, Order of the Eastern Star. he attended the First Baptist Church of Grantsville.

Funeral services are set for 2 p.m. Tuesday at Stump Funeral Home in Grantsville, with burial in the Mt. Zion Cemetery. Visitation will be 6 to 8 p.m. Monday.

He was born August 1, 1928 in Fairview, the youngest son of the late Otis D. and Rebecca Goff McCartney.

He is survived by four daughters, Janice Metheney and Jill McCartney of Statesville, North Carolina, Joyce Underwood and her husband Dave, and Jennifer Albright and her husband Chad, all of Grantsville; 8 grandchildren, James Hall, Chris Metheney, Chad and Ryan Underwood, Daniel and David Whitlow, Jeffery Skidmore, and Katie Albright; a brother, Rood McCartney and his wife Hester; two sisters, Eda Sparks and Freda Bellomy.

In addition to his parents and wife Mr. McCartney was preceded in death by eight brothers and and a sister.