MEMORIALS BY THE ROADSIDE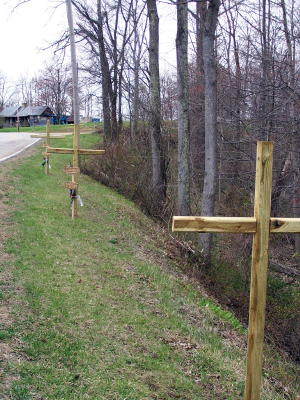 Two of the crosses are in remembrance of the Hickman boys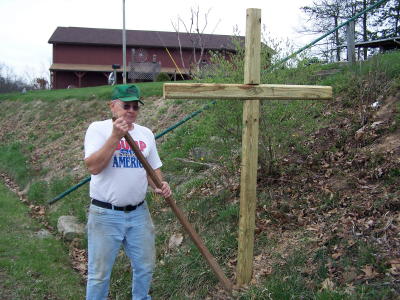 Willard Burrows sets his final "Cross of Remembrance" along Route 16
By Bob Weaver 2006
Driving out Pleasant Hill on Rt. 16 north of Grantsville this weekend, you could be startled to discover nine crosses along the highway, a short distance apart.
The nine crosses represent the tragic and sudden loss of life along a short stretch of highway, says Willard Burrows, who erected them on March 31st in memory of local citizens. Seven of the deaths were connected to vehicle accidents.
Burrows, a CHS graduate with the class of 1957, returned to Calhoun with his wife Kathy a few years ago, after retiring from General Motors in Ohio.
"The crosses are a tribute to those individuals," said Burrows, who acknowledged he knew most of the people who died in front of his house.
Area residents have already started putting remembrances on the crosses, which have the names of the deceased. "I expect to see something on all the crosses before long," said Burrows.
"The day I erected the crosses, unknown to me, was the anniversary of two of the deaths," teenagers, Luke and Danny Hickman.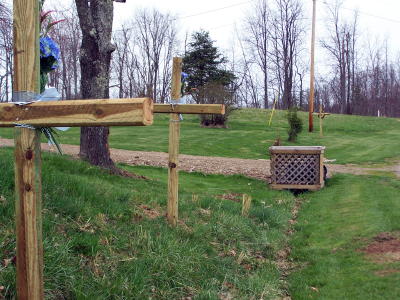 The most recent deaths, directly in front of his house -
Coleman Gene and Katheryn Burrows, his relatives
Others who died in vehicle accidents include, Clyde Duskey, Clyde Richards and Harold Freshour.
"Two others who died very suddenly with heart attacks have crosses, too," said Burrows, remembering Emogene Davis and and Calvin "Hack" Wilson.
Burrows said several other people have died recently in accidents a very short distance around the ridge.
"The biggest culprit is the motor vehicle," Burrows said. "Right here it has run head first into trees, turned over and burst into flames."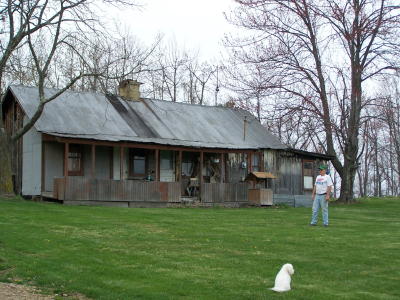 Willard, who built a new home for he and his wife, stands
in front of the old Burrows homestead where his parents,
Dortha and Leone Kelley Burrows once lived, along with his
brothers Charles, Denzil and Bill, and sister Louise Kovar