By Lawrence J. Smith

CHARLESTON - The qualifications of his opponent, and not the political baggage he's accumulated over the years, is the reason why a West Virginia native says he won't be the next state higher education chancellor.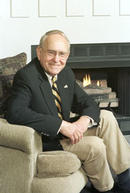 Francis T. Borkowski, (left) a professor of music and former chancellor at Appalachian State University in Boone, N.C., all but conceded defeat Wednesday to Brian Noland in the search for a new chancellor of the West Virginia Higher Education Policy Commission.
Noland, assistant director at the Tennessee Higher Education Commission, and Borkowski were the two finalists WVHEPC announced on March 20 to replace former chancellor J. Michael Mullen.
In August, Mullen announced he would be stepping down as chancellor in September. He continued to work for the commission as a researcher until the end of his contract on Jan. 31 while receiving his full salary of $225,000.
Newspaper reports said Mullen essentially received his full paycheck for writing a 20-page report.
Vice-chancellor Bruce Flack is acting as interim chancellor until a replacement is found.
Borkowski was reluctant to make any comments regarding the selection process until the commission makes a formal announcement at its regularly scheduled meeting Friday in South Charleston.
However, the 70-year old Weirton-native was unequivocal in saying that controversies regarding limitations he placed on free-speech at ASU and his handling of rape investigations at ASU and University of South Florida in Tampa, did not scuttle his chances to become West Virginia's top educator.
"No, not at all," Borkowski said. "I can understand where the number two man in a higher education system may be attractive."
COMING UNDER FIRE
In July 2002, Borkowski, who was then ASU's chancellor, restricted political protesting to one designated area on the 340-acre campus.
The "free-speech zone" was created in response to students protesting American foreign policy, according to the Foundation for Individual Rights in Education's Website.
FIRE, a Philadelphia, Penn.-based civil liberties group, came to the aid of ASU students in calling into question the constitutionality of the zone.
According to FIRE's Website, ASU made changes to its policy, but still continued to restrict free-speech by "relegating 'unscheduled' speech to only three areas, limiting the distribution of printed materials, and requiring 24-hour advance registration (including filing a report) for 'peaceful assembly'."
"Despite improvements, ASU's policy remains intolerably hostile to its constitutional obligations to free speech." FIRE declared.
The issue regarding the "free-speech zone" was not the first time Borkowski's administration was embroiled in controversy. In October 1996, about 500 people led by the Boone chapter of the National Organization for Women gathered on ASU's campus to protest the university's handling of a series of rapes.
According to NOW's March 1997 newsletter, four rapes occurred on or near ASU between 1995 and 1997. In two incidents, members of the football were alleged to be involved. In one of the incidents, the alleged victim was dissuaded by college officials from filing charges against her attacker.
Accusations that an alleged rape victim was pressured into not filing charges against her attacker occurred while Borkowski was president at USF. In 1992, Florida's Board of Reagents chastised Borkowski for the university's failure to discipline a star basketball player for his alleged rape and/or sexual assault of six women over an 18-month period.
According to the Miami Herald, a board report in January 1992 "found USF had manipulated disciplinary procedures to keep basketball star Marvin Taylor eligible to play in 1989 and 1990, despite complaints he had sexually assaulted, battered or harassed six women students." In one of the incidents, "the alleged victim was harassed into withdrawing her allegations," the Herald reported.
At a meeting of a board committee on Feb. 6, 1992, Borkowski outlined steps USF took to correct the problem that included programs to prevent rape and assist victims of sexual assault. During the meeting, the Herald reported Borkowski offered an apology.
"I accept your admonition," Borkowski said. " It is entirely appropriate. I regret what has occurred."
Borkowski left USF in 1993 to become ASU's chancellor. He served in that capacity until 2003 when he resigned due to "a longstanding inherited medical problem," according to the Winston-Salem Journal.
NOT LOOKING FOR CAREER FULFILLMENT
WVHEPC chairwoman Mary Claire Eros hinted that Noland was selected by the search committee to be the next chancellor. She deferred further comment until Friday's meeting saying only that the committee would make a formal recommendation.
"The search committee has made its decision," Eros said. "The name of the person we're supposed to hire will be made on Friday."
For Borkowski, the opportunity to become the state's higher education chancellor was never about career advancement. Rather, he said, it was a chance to come full-circle.
"I was attracted to the position because I'm a native West Virginian," Borkowski said. "I'm not out there looking for another position."
Noland, who has both a bachelors of science and masters degree from West Virginia University, will serve West Virginia well as the new chancellor, Borkowski said.
"I think he's a very good person," Borkowski said, "I think he's going to do just fine."
Photo courtesy of www.thefire.org