The following is a reprint from December 2, 2005 by Pastor Brian D. Jones.
Pastor Jones passed away September 3, 2008 at his home in Wheeling, West Virginia. Jones pastored the Seventh-day Adventist churches of Wheeling and Weirton.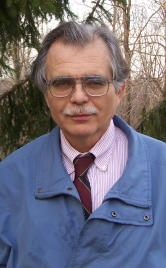 Until May, 2007 Pastor Jones shepherded the Seventh-day Adventist congregations in Spencer, Glenville and Gassaway, WV. He and his wife Elizabeth and daughter Rebekah resided at Chloe, Calhoun County, WV.
Pastor Jones served in several Seventh-day Adventist conferences including Chesapeake, Nevada-Utah, Upper Columbia, Washington and Mountain View where he was the communications director. He had been a chaplain at the Wildwood Hospital in Georgia; served on the staff of the Amazing Facts radio program; spoke on the WWVA Sword of the Spirit radio program; and was the author of six books and principle contributor for three Sabbath School Quarterlies, published by the General Conference of Seventh-day Adventists.
Christmas - An X'ing Out Or An Ushering In Of Christ?
Another Christmas is rolling around. And another year packed with interest is ending.
Would that I had the pen of a Dylan Thomas to evoke something of the atmosphere of my childhood Christmases. To attempt that, however, would produce the effect of a lame parody, so I shall safely stay in the grey zone of prose, and forego all frowsy-winged attempts at lofty flight.
Over the years I have met many people who make a triumphant show of their knowledge that Jesus was not born in late December but in early autumn – and this assertion comports better with Bible chronology and prophecy. They delight to point out that all the customs of Christmas originate in paganism, and this also is true. And from these facts they conclude that any acknowledgment of Christmas is a concession to paganism. But I differ with that view, for despite all the profluent commercializing of this holiday, it still presents for the world's consideration the historic and spiritual and significance of Christ's Nativity. Paul said, "What then? Only that in every way, whether in pretense or in truth, Christ is proclaimed; and therein I rejoice, yea, and will rejoice" (Phil. 1:18).
Many of the majestic carols, such as "Hark, the Herald Angels Sing" and "Joy to the World" "God Rest Ye Merry, Gentleman" are inspiring sermons in song, imbued with a rich gospel message.
I well remember that as a boy (raised in a completely secular home which revered not the least flicker of Bible truth) I would contemplate some of the lyrics, so refulgent with hope and visions of glorious destiny, so clear in their conviction that the sufferings and sorrows of life are not humanity's eternal lot. And, so joyous in their reception of Christ.
"Hail! The heaven-born Prince of Peace!
Hail the Son of Righteousness!
Life and Light to all He brings,
Risen with healing in His wings.
Mild, he lays His glory by,
Born that man no more may die,
Born to raise the sons of earth,
Born to give them second birth.
Hark! The herald angels sing,
'Glory to the new-born King.'" (Charles Wesley, 1739)
At Christmas time we often listened to Handel's Messiah whose supernal music and libretto almost irresistibly lift the mind to heights of celestial thought and feeling.
So I cannot be among the Grinches that steal Christmas.
While "Jingle Bells," "Frosty the Snowman" and "Santa Claus is Coming to Town" mean nothing at all to me, those grand old carols and the Bible account of Jesus' lowly but miraculous birth (in chapters 1 and 2 of both Matthew and Luke) have an attraction, a power which no holiday frolics and fripperies can countervail. That which is innately immortal cannot be suffocated by all the world's ribbons and wrapping paper. They perish, but the eternal Gift remains undimmed and undiminished.
I remember one boyhood Christmas our family watched a television presentation of Benjamin Britten's oratorio on Daniel. It was fascinating. I've never seen or heard it since, but Daniel has become one of my favorite books in the Bible. (Isaac Newton did extensive study of this book in conjunction with Revelation, being especially interested in their prophetical content.)
So, despite its undeniable pagan trappings and tasteless commercialization, I am peculiarly fond of Christmas. After all, no one can make us go shopping at the height of holiday madness, no law compels us to observe carnal rituals, or to consume health-destroying dainties at December's end or any other time. The holiday can be kept simple and joyous. And so we choose to do.
While there are no biblical grounds for the observance of Christmas as a "holy day," neither does the Bible prohibit some joyful commemoration of Christ's First Advent. And what finer period than the end of the year, when days are short and cold weather sets in -- and employers grant some holiday time for family gatherings. The angels are recorded as singing on the early autumn night of Christ's Advent, "Glory to God in the highest, and on earth peace, good will toward men." Luke 2:14. The declaration then made, the note then struck resounds to the ends of the earth, leaving an impress on human hearts that has produced myriad instances of the New Birth.
And for many, including myself, God's great love and salvation has become the commanding theme of their lives. It has delivered me from inertia, alcoholism, drug addiction, waywardness, animosity, smouldering bitterness, and absinthian despair. I have regretted many of my life's actions but never the one which led me to respond to the great invitation of Matt. 11:28-30. No where else could I have found mental healing and motivation to live in a manner that makes a positive difference.
Without Christ's glorious incarnation to be our perfect Example and our perfect substitutionary Sacrifice of sin, true regeneration would be impossible. Every year there rolls around a renewed opportunity for a world deeply mired in sin, stolidly entrenched in materialism and militarism to consider afresh the legitimate offers and claims of the gospel.
So, in the spirit of these reflections, I wish you a Christmas - merry? perhaps, but certainly filled with God's grace and saving power. And in all the giving and getting connected with this season, so bleared over with worldliness, frivolity and ruinous indulgence, let us remember that "the Dayspring from on high hath visited us, to shine upon them that sit in darkness and the shadow of death; to guide our feet into the way of peace." (Lk. 2:78,79). He came as our Saviour from all sin and to make us partakers of His divine nature. Let us not reject this supremely valuable and necessary gift, or depreciate it because it is free. It is free because its value far exceeds our collective resources. It is free because it is not a compensation or a reparation, but a redeeming ransom. It is free because God's bountiful love expresses itself in royally sublime and sacrificial giving. All the world's wealth and wisdom could not save one soul. But Jesus can save to the uttermost all who are willing to receive Him on Heaven's terms. That is why He came. And that is why He will come again, to receive to Himself all who have yielded their lives to His sovereign grace and authority.
May each reader have a joyously uplifting Christmas in response to His wondrous gospel, Pastor Brian D. Jones