WHILE HURRICANE GUSTAV STRIKES THE COAST

Three years later, we reflect on a Calhoun County effort to help with one of the nation's biggest disasters.

Hurricane Katrina was the costliest and one of the five deadliest hurricanes in the history of the US.

The most severe loss of life and property damage occurred in New Orleans, Louisiana, which flooded as the levee system catastrophically failed. Significant parts of Mississippi received severe damage.

It was one the saddest displays of ineptness of federal officials to be responsive in providing basic rescue and humanitarian aid, with examples still surfacing three years later.

The storm is estimated to have been responsible for $81.2 billion (2005 U.S. dollars) in damage, making it the costliest natural disaster in U.S. history. About 2,000 died directly from the storm.

Calhoun citizens reached into their pocketbooks and sent a mission effort south to a rural town in Calhoun County, Mississippi.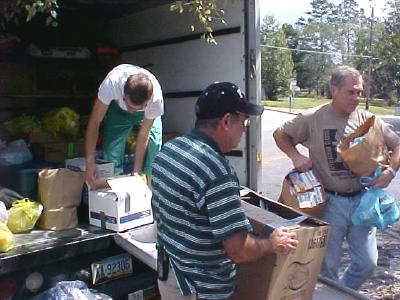 Operation Neighbor unloads essential gifts from Calhoun folks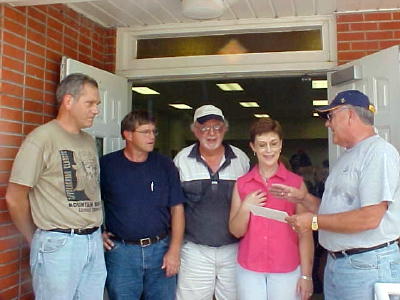 A $3,000 gift of cash was sorely needed, said church officials
(L to R) Richard Kirby, Rick Sampson, Bob Weaver,
Susan Woodard, Larry McCallister at Ellisville UM Church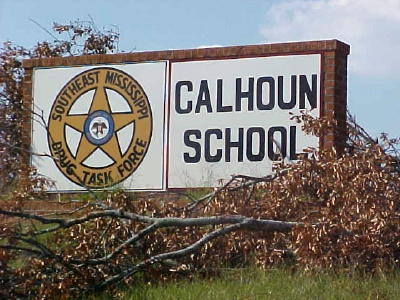 Calhoun WVs effort, not by plan, was delivered to
the Calhoun community of Jones County, Mississippi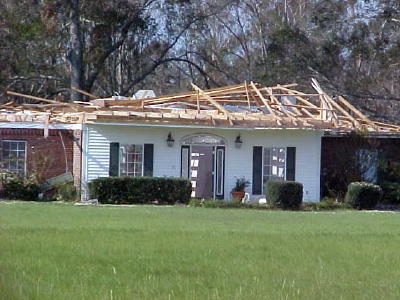 Houses had roof damage, roofs off and some
totally destroyed, with no electric, no phone
"Have you ever been walking, walking down that old lonesome road? Have you ever been walking, walking down that old lonesome road? No place to go, whee well brown no place to room and board."
"Things look so lonesome, down that road ahead Things look so dark, down that road ahead Been thinkin' of the way you livin', whee well boy and what your mother said."
"Things look so lonesome, when you ain't got a shelter over your head Things look so lonesome, when you ain't got a shelter over your head When you could have been at home, whee well boy sleepin' in a feather bed."
- Lonesome Road Blues by Muddy Waters
By Bob Weaver
Republished from 09/12/05
Editor's Note: Cash, food and water taken to Mississippi was covered by donations, using no taxpayer money. Donation money and taxpayer money was given to the Upper West Fork area following a flash flood, after state officials said the flooding did not qualify for disaster relief.
A World War II veteran and member of the Ellisville, Mississippi United Methodist Church told his congregation that he had not experienced such an emotional upheaval since witnessing refugees wandering aimlessly after the bombing of their towns and homes in battle torn Europe.
There are 400,000 to one million refugees from the destruction of hurricane Katrina.
Following the destruction in Biloxi and New Orleans, like those war refugees, they were walking north along the rural roads with "blank stares," looking for food, water and a place to take them in, he said.
When terrible things happen, people turn to their neighbors for help. Within miles of the eye of the storm, there were no neighbors except those trudging up the country roads of rural Mississippi and Louisiana.
Bureaucrats said they should have had enough sense to get out before the storm, but for many, they had no way except their survival instincts and their legs.
A woman in a old car, the windows knocked out by tree limbs, drove to the Ellisville church to get some food and water. She told Calhoun County Clerk Richard Kirby she had been living in her car since the hurricane and tornadoes struck Jones County.
She said the roof blew off her house, which had been moved from its foundation. "But the good Lord spared my family, and we'll start again," she said.
It seemed prophetic that the Calhoun County WV mission ended up in Ellisville (population 3,600), about 100 miles north of the Gulf Coast, a section identified as the Calhoun community.
Roofs in the inland area were ripped off, some destroyed, and there was no electric and phone service. Electric repair crews were leaving the area, with little to repair, to be replaced by construction crews.
Within minutes after the Calhoun relief mission unloaded about $10,000 worth of food and supplies donated by Calhoun citizens, the items were distributed.
Susan Woodard, who had been leading dozens of church volunteers for several days, said "Are we glad to see you. We're out of food." Later in the afternoon a couple tractor-trailers arrived from Cleveland.
Woodard said the pressing needs of Biloxi and New Orleans have been the focus of relief efforts, with rural counties depending on the generosity of church and civic groups coming to their aid.
Her eyes swelled with tears when Calhoun's commissioners presented her with a check for $3,000, donated by Calhoun people.
"Be sure and tell your people how grateful we are," said Woodard, who had been at the task for ten days.
The church changed their policy Thursday, since transportation routes were opened, to taking the food, water and supplies to other churches in the county.
Calhoun's commissioners, assisted by Jim Yoak, helped with that re-distribution.
There was that gracious southern hospitality in the middle of chaos, catfish meals and an overnight stay in the home of the president of Jones County Community College, hosted by his wife, Charlotte Whitehead, who gave the Calhoun group the mattresses off her beds for much needed sleep and a bathroom for a refreshing shower.
It was a compelling moment to meet dozens of units from the New York City Fire Department, lights flashing, coming to Biloxi, a town that reached out to the NYC department after 9-11. The southern town even purchased a new fire engine for the Big Apple. It was time to return the favor.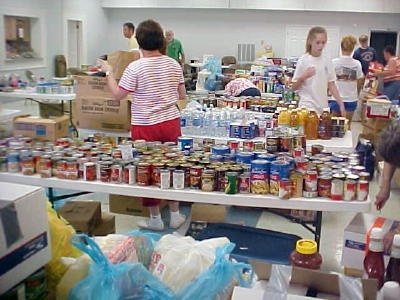 Ellisville church has been a hub of activity since the crisis began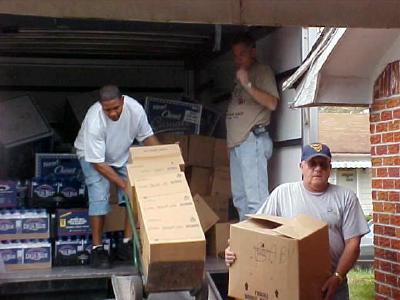 Special deliveries were made to churches in the area ...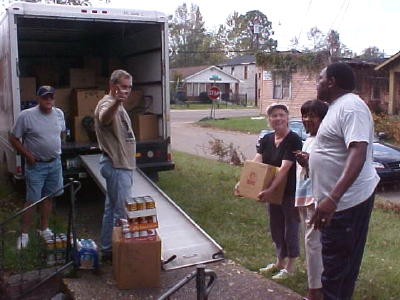 ... including the African Episcopal Church across the way ...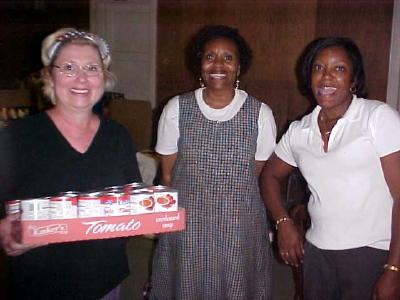 ... whose members expressed their thanks to Calhoun folks
Despite the failure of incompetent bureaucrats and politicians, it is a delight to answer a headline question on the Herald a few days ago - "Has America lost her soul?"
The soul and passion of the American people to help those in trouble has never been better.
The problem lies with others who have assumed such a burden, those we elect and appoint to represent our soul and use our tax money.
Leaders seemed asleep at the wheel.
Not so in the small towns of rural Mississippi and thousands of communities around America who have dipped into their pocketbooks and given their time.
God bless them all.
Postscript: The Calhoun Commission quickly put together OPERATION NEIGHBOR, a relief effort to help neighbors in hurricane and tornado torn Mississippi.
Last Wednesday the effort went south on a journey, Larry McCallister, Rick Sampson, Bob Weaver, Richard Kirby and Jim Yoak, delivered food, water, supplies and money, using the generous donations of Calhoun County people.