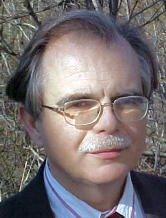 brejones@frontiernet.net
Last night many exchanged the familiar greeting, "Happy New Year!" A pleasant wish indeed, but we all know that it takes more than just saying these words to make it so. Will this be a new year or just another year in the treadmill of time? It will be a year of renewal for us, rather than a mere batch of 12 bustling months, if we have the new birth. If not, the year will be old from the moment it begins and quite predictable in its vexations, sorrows, and disappointments. If our lives are out of harmony with God, "we spend our years as a tale that is told," Moses wrote with the sober realism that characterizes Scripture (Psalm 90:9).
So, letís look at some major pointers on how to make 2005 truly a happy new year.
First: We should make our calling and election sure in Christ. "He who has the Son has life" (1 John 5:12). Therefore we should seek the new birth. Read John 3, the whole chapter, and Romans chapters 1-6 to gain a grasp of this most vital subject. Remember, that as you do this, "Faith comes by hearing and hearing by the word of God" (Romans 10:17) which is the incorruptible seed by which we are born anew (1 Peter 1:23). "If any man be in Christ, he is a new creature [creation]; old things are passed away, behold all things are become new" (2 Corinthians 5:17).
Second: Determine to "walk in newness of life;" reckoning yourself to be "dead indeed unto sin, but alive unto God through Jesus Christ our Lord" (Romans 6:4,11). Donít settle for a superficial, nominal experience with Christ, but determine to set Him always before your eyes and to follow Him in all your ways (John 8:12; Revelation 14:1-5).
Third: Resolve that your life is going to count for the advancement of Godís cause and Kingdom. This means "serving in newness of spirit" (Romans 7:6), which calls for the baptism of the Spirit in our lives -- not for a self-exalting display of spiritual gifts but for the humble exercise of them, and the bearing of spiritual fruit in our lives, "love, joy, peace," etc., (see Galatians 5:22,23). This fruit includes temperance [self-control] which, by divine grace, enables us to overcome addictions, bad attitudes and other internal obstacles that hinder our progress as good citizens in this world and the world to come. See Galatians 6:7-9.
For all of us thereís an experience to be gained in the power of Godís truth. For all of us thereís a victory to be won. Chiefly victory over our selves, not over one another.
This will be an old year by January 2, if self is on the throne. This will be a new year, if your deepest desire is for Christ to be magnified in your life, that you may be a blessing to others and fulfill His purpose for your existence: to make His character manifest in your own by being a benefit to others without craving recognition or reward. This will be a new year, if for you to live is Christ and to die -- to selfishness, vanity and pride -- is gain. This will be an old year, if you are pursuing conventional values and selfish ambitions. This will be a new year if you are seeking holiness on Godís terms. This will be an old year if you are seeking happiness without regard to His will.
If Bible prophecy is true, and you may be sure it is, the time of Christís coming is at hand. Matthew 24 and its parallel chapters Luke 21 and Mark 13 unveil the meaning of current events whose gathering momentum will soon culminate in the final denouement. We could not launch into the new year more wisely than by giving heed to Christís admonition: "And take heed to yourselves, lest at any time your hearts be overcharged with surfeiting, and drunkenness, and cares of this life, and so that day come upon you unawares. For as a snare it shall come on all them that dwell on the face of the whole earth. Watch ye, therefore, and pray always, that ye may be accounted worthy to escape all these things that shall come to pass, and to stand before the Son of Man" (Luke 21:34-36).
In this new year that opens before us, let us determine that the entries written in our lifeís book will be unsullied by foolishness, sloth or vice, but will be bright with the record of respectful, benevolent, upright living that brings peace, comfort and wholesome guidance to all within our sphere.
Pastor Brian D. Jones, Gassaway, Glenville, Spencer Seventh-day Adventist Churches