Submitted by Kelley Houchin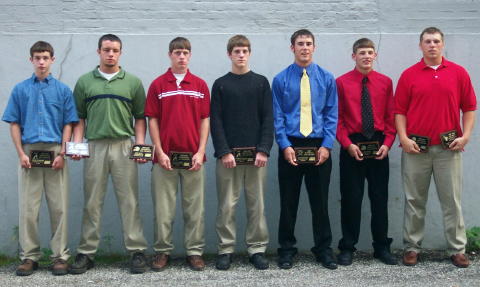 Calhoun was represented by the following athletes (pictured left to right) Eddie Burrows - Wrestling; Eric Metz - Football and Wrestling; Justin Ashley - Wrestling; Andrew Cummings - Wrestling; Zach Houchin - Baseball; Justin Price - Football; Marcus Davis - Football and Basketball
The LKC All Sports Banquet was held Sunday at the Dils Center in Parkersburg.
The banquet recognizes individuals selected as 1st team All-Conference athletes for each respective sport.
The Little Kanawha Conference member schools include Braxton County, Calhoun County, Clay County, Doddridge County, Gilmer County, Parkersburg Catholic, Ravenswood, Ritchie County, Roane County, St. Marys, Williamstown, and Wirt County.