Winfield's AA team, after defeating the Calhoun Red Devils 68-50 last Wednesday, have gone ahead to win the state basketball AA title in Charleston.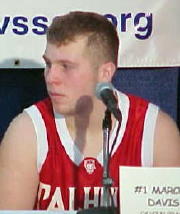 Calhoun's Marcus Davis was selected for the AA all-tournament team.
Winfield beat the buzzer not once but twice, to win their first state championship.
Winfield's first buzzer-beating tip-in forced overtime and the second brought the win, as the Generals won a 53-52 thriller over Lincoln in the game Saturday afternoon in Charleston.
The Class AA All-Tournament team included Westside's Matt Cook, Lincoln's Adam Southern, Winfield's Tyler Kovarik, Calhoun County's Marcus Davis, Lincoln's Justin Bryant, Winfield's T.L. Asbury, Oak Glen's Luke Samples and Lincoln's Travis Sinclair.