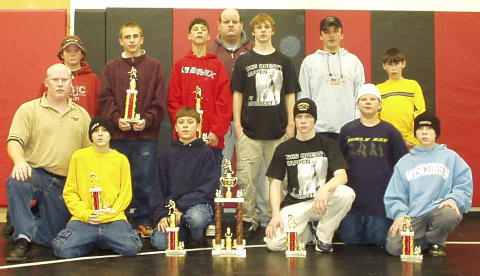 SPENCER MIDDLE SCHOOL WRESTLERS: Front Row, left to right: Coach Jarvis, Justin Fisher, Cody Clarkson, Eric Jarvis, Ryan Jarvis, David Benson. Second Row, left to right: Jenny Johnston, James McGinnis, Joey Maldonado, Coach Ford, Justin Griffin, Eric McCay, Travis Jenkins. Not pictured: Chad Price, Michael Schoolcraft, and volunteer trainer Bruce Boggs.
Photo by Bruce Boggs
Spencer Middle placed third overall, with 21 team points. Individual place finishers include: 1st place - Joey Maldonado, James McGinnis, Justin Griffin; 2nd place - Cody Clarkson; 3rd place - Justin Fisher; David Benson and Eric Jarvis.