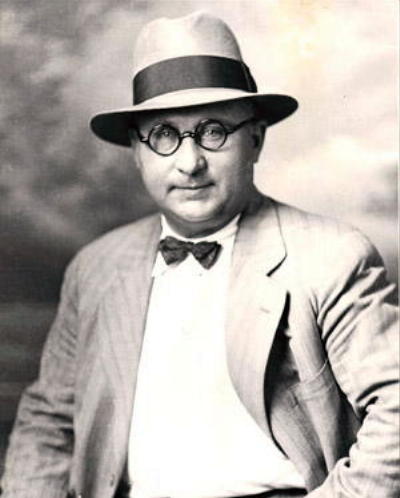 "The Bluebeard of Quiet Dell"
By Bob Weaver
On warm summer nights in the Village of Hur, when the McCoy family had exhausted stories about things that happened in these hills, or talking about the comings and goings of their neighbors, someone would start dredging horrific tales or ghostly happenings.
The family told this tale.
Those tales generally had some connection to real-life, like the "Bluebeard of Quiet Dell" in Harrison County. There was a newspaper clipping about the killer in the family scrapbook with the sordid story of "West Virginia's Crime of the Century."
On August 27, 1931, lurid headlines shocked the town of Clarksburg and quickly took the nation by storm as a grisly story unfolded.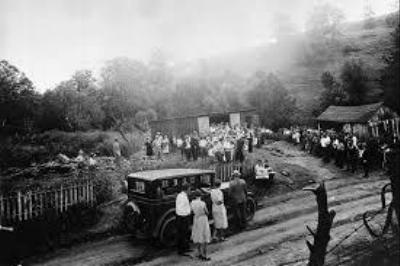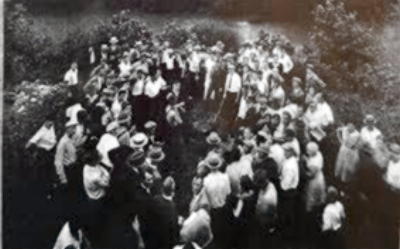 The community flocked to Quiet Dell to look for bodies
Each newspaper account in Clarksburg and around the nation revealed more vivid details about the serial killer known as Harry Powers a.k.a. numerous other names.
The saga began with a phone call from more than 500 miles away when officials in Park Ridge, Illinois, contacted Clarksburg police about a widow and her three children who had been missing for more than two months.
The mother, Asta Buick Eicher, had left behind 27 letters from Cornelius O. Pierson (Powers), postmarked from Clarksburg.
Clarksburg detective Carl Southern discovered that a Cornelius Pierson had rented a post office box, and went to the home of a local grocer and former vacuum salesman known locally as Harry Powers.
When Powers returned home, he was placed under arrest for manslaughter in the disappearance of Eicher and her children, despite the lack of solid evidence or the bodies of the missing people.
In his pockets, curiously, were five letters addressed to five different women.
Police went to a board and batten garage on a small farm Powers owned in Quiet Dell, detectives breaking into building and finding dried bloodstains, but no bodies.
On the morning of August 28, police escorted Powers to the garage and discovered bloodstained clothing and jewelry in a basement beneath the garage, under a trapdoor. Police also noticed a noose tied to a rafter above the trapdoor.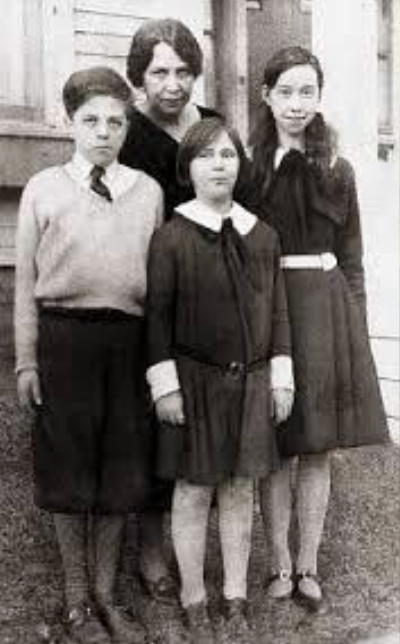 Four victims of Quiet Dell Bluebeard - the Eicher Family
Following up on a tip from a local boy, police uncovered a drainage ditch beside the garage, and while excavating the ditch, investigators found what they were looking for — the badly decomposed bodies of Eicher and her three children: Greta, 14; Harry, 12; and Anabel, 9.
The victims' hands had been bound with rope that matched the noose in the garage. Two days later, the police also found the body of Dorothy Lemke, a 50 year old widow from Northboro, Massachusetts.
Powers then confessed to the murders.
The classic Bluebeard had scoured lonely-hearts ads in out-of-town papers and wrote the women tantalizing letters. The ladies who were willing to come visit and would swindle away their cash and dispose of them.
He told investigators he would be sexually aroused hearing their dying screams.
When questioned concerning the small mountain of items who's owners were unknown, Powers clammed up, muttering "You've got me on five, what good would fifty more do?"
He was sentenced to death and hung on March 18, 1932.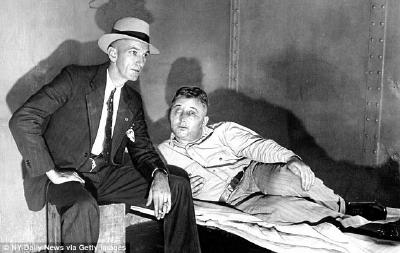 Arresting officer talks with Powers before hanging
After hearing such sordid tales, I would walk briskly up the darkened Hur road to be tucked safely to bed, likely followed by troubling dreams.
The 1953 novel "Night of the Hunter," and the 1955 iconic film of the same name, starring Shelley Winters and Robert Mitchum, was based on the Quiet Dell tale.
The book was written by WV writer Davis Grubb, whose other novel was made into a film called "Fools Parade.
Grubb, who lived in New York, was a fascinating man who returned to Moundsville for the world premier of the film in a taxicab with his small dog, perhaps one of the lowest taxi rides in history.
Grubb, long suffering from alcoholism, returned to the Mountain State, recovering from his disease, shortly before dying in 1980.
As recently as 2013, Jayne Anne Phillips in her novel "Quiet Dell" examined the case anew.