By Bob Weaver 11/18/2016

The Clay County Development Corporation carefully crafted a statement about the status of Pamela Ramsey Taylor that indicated she was no longer part of the operation after see issued "a ape in high heels" racist comment about first lady Michelle Obama.

That statement was issued to state and national media, and most of then reported she was no longer with the agency.

Sources close to the agency are saying she was placed on a leave of absence and is still with the agency, collecting her salary which is about $80,000 annually.

Other sources say she is still reporting to work.

The Clay County Development Corporation, which is controlled by a "tight-knit family" group, has not allowed the press at their meetings for many years.

A number of local residents are complaining to state and federal agencies regarding the director's status, mostly linked to the issue that it is funded by taxpayer money, while others have supported her "free speech" and advocating against political correctness.

Pamela Taylor Ramsey, in an earlier released statement, indicated she was going to bring legal action against those who have defamed her and caused threats to be made against her life.

By Bob Weaver 11/16/2016

At least 154,000 people have signed an online petition calling for the mayor of Clay and the Clay County Development director to resign after Michelle Obama was described as "a ape in high heels" in a Facebook post.

The comments by Pamela Ramsey Taylor, the director of the government funded, non-profit Clay County Development Corporation, negatively compared First Lady Michelle Obama to Melania Trump.

"It will be so refreshing to have a classy, beautiful, dignified First Lady back in the White House. I'm tired of seeing a [sic] ape in heels," Ramsey Taylor's now-deleted post read.

The mayor of Clay, Beverly Whaling, liked the post and commented, "Just made my day Pam."

The Facebook post went viral and the story, after being reported locally by the Clay Communicator and the Hur Herald, has appeared in hundreds of newspapers and on nationwide TV, with most people expressing disbelief and dismay that a mayor and development official would publicly support racist views.

The Herald has had nearly one-half million visitors over the issue.

WV state media was reporting Monday that Ramsey Taylor was no longer in her position as development director, but Clay sources today told the Herald that Ramsey Taylor is still with the agency, likely receiving her reported $80,000 salary. ABC News reported she would be taking a leave of absence.

Sources told the Herald that Ramsey Taylor's agency has been issuing carefully crafted statements that indicates she is no longer with the agency.

However, Clay Mayor Beverly Whaling did issue her resignation Tuesday afternoon, expressing her regrets and the Clay town council expressing an apology to Michelle Obama.

Clay Councilman Jason Hubbard said, "The Town Council (Clay) would like to condemn the horrible and indecent post that is the center of the controversy. This post is an individual and isolated act. This kind of racial intolerance is not what this community is about."

Tuesday, The West Virginia Democratic Party released this apology to First Lady Obama:

"On behalf of my fellow Mountaineers I would like extend my sincerest apologies to First Lady Michelle Obama. West Virginia truly is better than this. These radical, hateful, and racist ideals are exactly what we at the West Virginia Democratic Party will continue to fight against. These words and actions do not represent West Virginia values. We will continue to fight for a West Virginia that is inclusive, not divisive and a home for all to feel safe, welcome, and protected. In a time when we are at a crossroads and many fear the future we must stand together against hate of all forms."

11/14/16 - An official at a Clay County agency reportedly was placed on leave or lost her job Monday after publishing a racist Facebook post criticizing U.S. first lady Michelle Obama. (See original story)

Pamela Ramsey Taylor, an employee of the Clay Development Corporation, referred to the first lady as "a ape in heels" in a Facebook post.

A person who answered the phone at the Clay Development Corporation said Monday afternoon that Taylor has been removed from her post, but refused to comment further.

However, he agency has not released a formal statement about her dismissal, with others reporting she has been suspended.

Clay Mayor Beverly Whaling commented on the post soon after saying, "Just made my day Pam," with Clay officials saying the issue will be dealt with at a Tuesday evening meeting.

Pamela Ramsey Taylor has been making apologies for her statement, but also said she and her family are now victims of hate crime with the backlash.

11/14/16 -Following the publishing of this story on the Hur Herald and being picked up by WV state media, the story has been picked up by national and international media, with the Hur Herald having the largest number of visitors in a single day, over 150,000.

Nearly 35,000 have signed a petition, most calling for the removal of the two woman over their comments.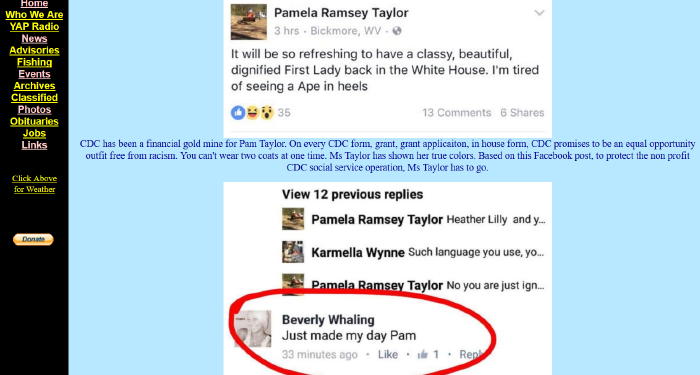 11/12/16 - Clay County, not unlike most of West Virginia's other 54 counties, was a high 80% plus win for presidential candidate Donald Trump.
Two leading Clay officials expressed their approval of Trump's win on Facebook, according to the Clay Communicator.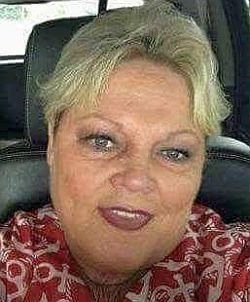 A leading Clay County official, Pamela Ramsey Taylor (left) who is the Director of Clay Development Corporation, posted on Facebook:
"It will be so refreshing to have a classy dignified first lady in the White House."
"I'm tired of seeing a ape in high heels," Taylor posted.
The Director's post statements were affirmed by the Mayor of Clay, Beverly Whaling.
The mayor responded by saying, "Just made my day Pam."
Both women have reportedly removed their Facebook pages, although the initial statements were posted and circulated.
Some Hur Herald readers thought the news story was a satire, while others erroneously blamed the Herald for supporting the officials statements.
Several thousand readers have expressed their discontent with the officials statements, including an on-line petition asking for their removal.
See thepetitionsite
wsaz - Non-profit director and mayor under fire after First Lady Facebook post