Calhoun's Jude Binder returns to the 2017 FestivALL Street Performers and Artists and Public Art in Charleston, as the meandering FestivALL Princess.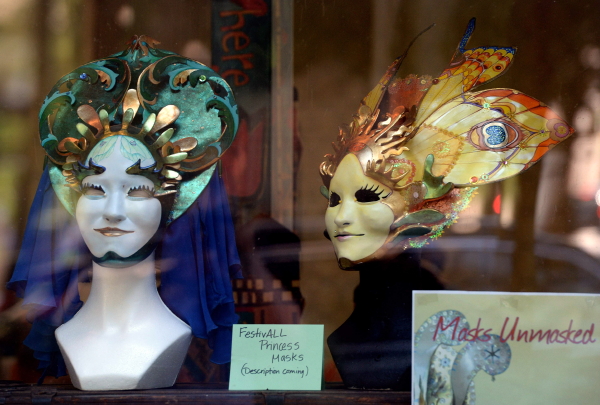 Masks made by artist Jude Binder are displayed in
the window of the Oddbird Gift Emporium, on Capitol
Street, as Jude connects with people on the street
Gazette-Mail photos by Chris Dorst
2016 - Jude Binder: The woman behind the FestivALL masks
By Laura Haight, Staff Writer for the Gazette-Mail
Although you may not know her name or face, you've probably seen her gracefully strolling about Capitol Street each year during FesitvALL.
Jude Binder has been known as the iconic Festiv- ALL Princess, meandering around in a pink dress and colorful mask since 2007.
Binder didn't coin the name, especially since she's not big on royalty, but children began calling her the FestivALL Princess, and the name stuck.
If it were up to Binder, she'd call her alter ego "Big Pink," she said.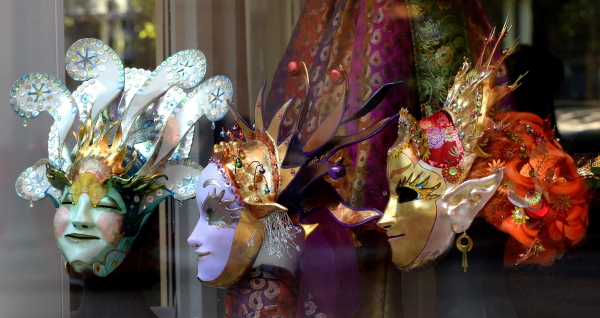 Binder started making papier-mâché masks as a child, but they
never worked out quite as she wanted. In 1984, though, she
learned how to make tarlatan masks, like those on display at Oddbird
For Binder, performing in her masks gives her an outlet to be her true self and interact with people and children the way she wants to. Dressed as herself, Binder cannot approach a child and give them loving, positive attention, but she can when she's dressed in a mask ...
READ REST OF STORY:   Jude Binder: The woman behind the FestivALL masks