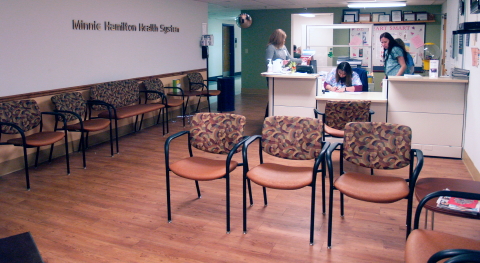 Admitting Department completed creating more
privacy and ease for patients at registration
Grantsville, WV - The secret of a great success story often lies in the journey. The healthcare system in Calhoun County has traveled a long, winding road but is set on the straightest path to the highest quality of health care.
Minnie Hamilton Health System has established an example of what healthcare should be - personal, compassionate care infused with state of the art technology and professional patient centered focus.
Minnie Hamilton is dedicated to improving the health and quality of life of all people in our service area through an innovative delivery system of services and education. To achieve success, Minnie Hamilton must be a partner in health-today, tomorrow and for life.
In the past ten years, wonderful change and growth have happened at Minnie Hamilton. A new Cardiopulmonary Unit has been created; a 16-slice CT scanner and mammography were added to Radiology; a Critical Care Transport ambulance was purchased and so much more.
However, growth begets change and the ever present need for upgrades and expansion. In 2012/start of 2013, a complete overhaul of the Admitting Department was completed creating more privacy and ease for patients at registration.
A new walk-in freezer was purchased for the Dietary Department and mammography services were upgraded to digital, providing more in-depth results.
With continued growth, Minnie Hamilton now faces the unique challenge of creating the most up to date healthcare facility in a building that was originally built in 1959.
Current projects that are imminent include a complete remodel of the Acute Care Nursing Department and upgrades in the patient's rooms, including new closets and side tables; Long Term Care remodel; and Emergency Room layout improvements.
With these plans in mind, Minnie Hamilton Health System Visions Fundraising Campaign is officially launching. Through this campaign, Minnie Hamilton is seeking to build a better health system, one gift at a time.
Your generosity allows Minnie Hamilton to retain top notch providers, upgrade technology, revamp the existing facility and provide outstanding patient support services.
Minnie Hamilton is a non-profit organization that relies on grant funding for system and building maintenance. With your donations and assistance, projects are expedited and come to fruition in a more-timely manner.
Minnie Hamilton is excited and looking forward to growing while working with our patients and community partners.
In this uncertain economic time, Minnie Hamilton counts on your support-now more than ever. Your gift is extremely important to Minnie Hamilton because it provides resources that make an immediate impact-that will help us through these interesting and tough times.
Your *tax deductible gift of $100, $500, $1,000 or $5,000 can make all the difference…to our doctors, our nurses, our therapists, our pharmacist, our technicians, our Emergency Department…to everyone here who works to serve you.
And if you like, you can specify your gift to a particular department or program, where ever you choose. Please consider making as generous gift as you can.
As medical care advances, Minnie Hamilton Health System is committed to staying at the cutting edge-for you, for your loved ones, for every person in our service communities. Please help to make this possible with your contribution. Your donation will make a world of difference. I promise you.
To make a donation, please contact Kyle Pierson, Chief Financial Officer at 304-354-9244 ext 1168 or mail to Minnie Hamilton Health System, attn: Kyle Pierson, 186 Hospital Drive, Grantsville, WV 26147.
Thank you for your continued support!
*Minnie Hamilton Health System is a non-profit organization pursuant to Section 501(c)(3) of the United States Internal Revenue Code.
Your donation to Minnie Hamilton Health System may qualify for an income tax deduction in accordance with Federal and/or State income tax laws. Please consult with your tax advisor to determine whether your donation is tax deductible in whole or in part. Nothing in this communication is intended to constitute legal or tax advice.