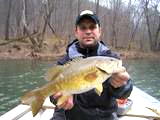 By Cory Boothe
Coryboothe@hotmail.com

The West Virginia Trapper Association will hold its annual fur auction this weekend at the Gilmer County Recreation Center. Trapping season closes this Thursday for furbearers except beaver. Beaver season continues through the month of March.

Finished fur will be consigned on Friday and Saturday. Raw, or green, fur will be handled on Sunday morning. Finished fur means it has been fleshed and dried. Raw fur means it has not been. Other items to be bought are deer antlers, beaver castor, herbs, and roots such as ginseng and yellow root.

Fur prices peaked in the late 1970's to early 1980's when the value of the dollar was low and demand for fur was high. Once again, our dollar value is low with lots of demand from China and Russia. Here, in the U.S. the demand for wild fur has dwindled. However, cold Russian and Chinese winters keep demand high in those countries.

The Little Kanawha Valley is a wonderful place for trapping as is all of the Mid-Ohio Valley. The only animal missing is the fisher which requires a higher altitude and colder climate than what the Mid-Ohio Valley offers. However, rivers such as the Hughes and Little Kanawha are full of beaver, muskrats, and the very valuable otter. Otter pelts recently sold for as high as $75 at the January fur auction.

Most common animals trapped in the area are raccoons, possums, and muskrats. The rarest catches are bobcats and otters. Coon prices can range fro an average of $8 to $15 dollars while a prime bobcat should be above $75.

Trapping requires dedication and long hours. Starting hours are way before daylight and a trapper is likely to finish in the fur shed burning the midnight oil. They do not take time off for bad weather as traps must be checked daily. However, the rewards are being in the great outdoors as a witness to the changing seasons. The toils of our labor are measured in experiences few others witness such as a season of sunrises and sunsets, the arrival of robins, and dandelions of approaching spring overtaking the fields once covered with snow.