The Parkersburg Police Department arrested a Big Springs, Calhoun man New Years Eve following a report of "a disorderly man possibly trying to set his truck on fire," according to Sgt. Gregg Collins.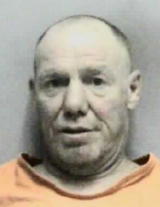 Officer B.J. Depue made contact with Gary Paul Ferrell, 54 (pictured left) noting him to be in acting frantically. Ferrell told Officer Depue he was having a heart attack with an ambulance immediately being summoned to the scene.
Ferrell allegedly became aggressive with paramedics and began to shout profanities at both medical personnel and officers, jumping out of the ambulance and attempting to leave the scene. according to the report.
Officer Depue advised Ferrell he was under arrest for disorderly conduct, with Ferrell allegedly refusing to submit to handcuffing and attempting to pull away.
The officer forcibly handcuffed Ferrell and he was transported to headquarters for processing.
The report said while at headquarters, Ferrell allegedly continued to scream profanities at officers and refused to be fingerprinted.
Ferrell was transported to CCMC for medical clearance then placed in the Wood County Holding Center to await further processing attempts and arraignment.
Ferrell has been charged with disorderly conduct and obstructing an officer at this point.
The Parkersburg Police Department responded to 162 call over New Years.