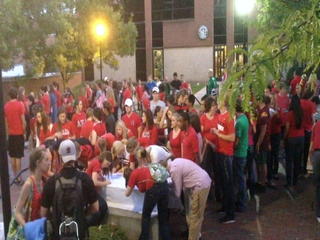 Eyewitness News Photo
Marshall University student Elisabeth Spencer lost her mother, father and young sister last week in Doddridge County.
Dozens of M.U. students gathered for a candlelight vigil Tuesday night.
Spencer is grieving after her sixteen year old brother was arrested for allegedly killing her family members.
The Alpha Chi Omega sorority and other members of the Greek community on campus is raising money for Elisabeth for anything she might need as she deals with this great loss.
Tuesday was Elisabeth's young sister's birthday.