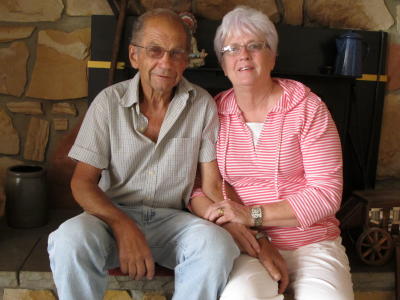 Vere and Susie Brannon, 45th Molasses Fest Parade Marshals
Vere and Susie Brannon, married 36 years, will be the Parade Marshals for the 45th WV Molasses Festival at Arnoldsburg, the event is set for Sept. 27-29.
"It's an honor. We've been in this community our entire life. It's been the best place to be. It's home," said Vere. He is a descendant of one of the early settling families who came to Calhoun.
Vere, a farmer for over 50 years, gave up the livestock business last year.
He served in the US Army and attended Potomac State College.
He is best remembered in the community for operating a service station in Arnoldsburg for 25 years, although he has held other jobs in construction.
Susie worked for a number of years at Kellwood in Spencer, the sweater factory closed its doors and moved to Mexico in 2000.
She has been operating the Master's Bouquet, a flower and gift shop in Arnoldsburg for 12 years.
They have three daughters, Cindy Carbaugh of Knoxville TN, Shelly Mace and Amy Carper of Arnoldsburg, plus seven grandchildren and one great-grandson.
They will be leading the Saturday parade.