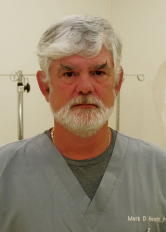 Mark Hewitt PA-C has returned "home" after an eight and a half year absence.

Mark graduated from Alderson-Broaddus College in Philippi, WV in 1998. After being certified as a Physician's Assistant he worked at Minnie Hamilton from 1998 to 2004.

His next position was at Alta Bates Hospital in Berkeley, California then at Summit Hospital in Oakland working in the Emergency Department in both hospitals.

"I am glad to be back home", said Mark, speaking very positively about our people and geographic location.

To make an appointment with Mark or any of our providers at Minnie Hamilton call (304)354-9244.