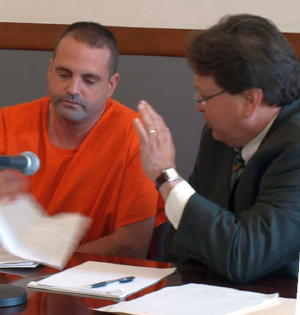 Hiram Lewis plead his innocence before a Clay magistrate
for over an hour, saying it was a clear case of self defense
against a drunken man (Clay Communicator Photo)
UPDATE: CLAY WV - The case of a former US Senate candidate and candidate for WV Attorney General, accused of shooting his roommate Steven Bogart, 55, in the leg last week will be heard by a Clay County grand jury next month.
Clay County Magistrate Court Judge Jeffery Boggs found probable cause to send the case of Hiram Carson Lewis IV, 41, to a grand jury.
Lewis is charged with malicious wounding and wanton endangerment involving a firearm. after allegedly shooting Bogart in the leg on June 13.
Lewis told police he shot Bogart when he barged into his home, despite repeated warnings not to do so, according to a criminal complaint filed in Clay County Magistrate Court.
Lewis indicated he was using a 'castle doctrine' defense, although Bogart said he lived at the home and was shot by Lewis after a dispute.
Boggs reduced Lewis' bail to $70,000 full surety. He remained in Central Regional Jail on Tuesday.
The shooting victim, Bogart, was a former resident of Spencer.
See Suspect, wounded man have conflicting stories by Travis Crum for the Charleston Gazette.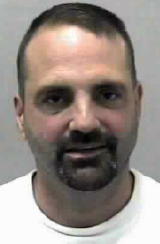 ORIGINAL STORY - State Police have made a high profile arrest related to a shooting on Elkhurst Road, the Procious Community in Clay County.
Hiram Lewis, 41, was arrested at his home after he shot Stephen Bogart in the leg Wednesday afternoon, a man who had been living in his house.
Lewis is in Central Regional Jail on $500,000 bond.
Lewis is a former GOP treasurer and ran against Robert C. Byrd for US Senate in 2006 and narrowly lost a race for Attorney General against Darrell McGraw.
Lewis claims Bogart barged into his home.
"He busted my door down, and I told him several times not to, not to kick the door in. Do not kick the door in. He kicked the door in, came at me, and threatened my life and I had to shoot him in the leg," said Lewis while being taken to the Clay detachment of the State Police, reported by WCHS-TV.
"He was a homeless vet, and I was helping him out a little bit, letting him do some construction work on the camp that I just got, and he just went crazy today," said Lewis.
"I was totally within my rights," Lewis said.
He told WCHS-TV, "It's in God's hands."
Lewis is a former army ranger, JAG officer, and veteran of Operation Iraqi Freedom.
Bogart was admitted to CAMC General, not critically injured, but Charleston Police had to be called to the hospital after he allegedly became unruly.