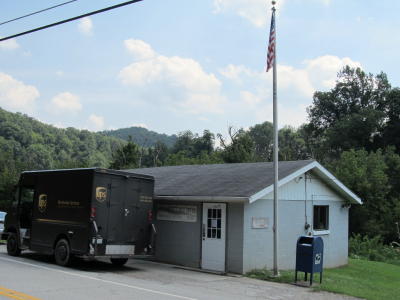 Orma Post Office on Rt. 16 south of
Arnoldsburg targeted for closure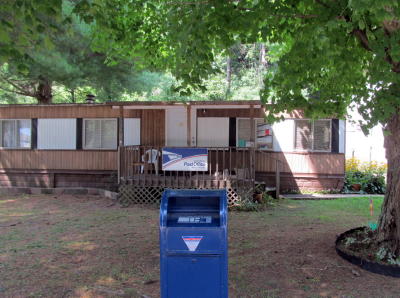 Millstone Post Office about two miles from
the Arnoldsburg Post Office slated for closure
Two Calhoun post offices are on the US Postal Services hit list for closure, Orma and Millstone are among 150 offices slated to be eliminated.
Most of the WV post offices are in small, rural communities.
A public meeting to save the Orma post office has been scheduled for today at the Orma United Methodist Church from 6-7 p.m.
A public meeting to help save the Millstone Post Office has been scheduled for today from 4:30 to 5:30 p.m. at the Millstone Church of Christ.
Residents wanting to fight the closure are urged to attend.
Opponents of the closure of rural post offices say their closing is only a faction of one percent of US Postal's budget.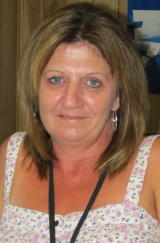 Rhonda McCoy (shown left), who has been the postmaster at Orma since 2008, said she had earlier heard the offices facing closure.
"The process of hearings and study takes quite a while," she said.
Bev Mullins is the postmaster at Millstone.
The postal service says many of the offices only have two hours of business a day.
The financially troubled service is studying the closure nationwide of 3,653 local offices, branches and stations, with the postal system saying is is facing bankruptcy.
"It's no secret that the Postal Service is looking to change the way we do a lot of things," Postmaster General Patrick Donahoe said at a briefing. "We do feel that we are still relevant to the American public and the economy, but we have to make some tough choices."
The service said coming under review doesn't necessarily mean an office will close. The post office announced in January it was reviewing 1,400 other offices for closing. So far 280 have been closed and 200 have finished a review process and will remain open.
Regional offices being studied for closure:
GILMER: Linn, Shock
CLAY: Dille, Widen, Nebo
ROANE: Amma, Left Hand
RITCHIE: Macfarlan
BRAXTON: Heaters, Orlando
Phyllis Grove, an advocate to keep the Auburn post office open, says thousands of rural post offices are being targeted, even though closing the small offices would only save seven-tenths of one percent of the post office budget.
Auburn is near the end-stage of public hearings regarding closure.
The Postal Service says it could save $200 million a year with the closures.
That does not come close to recouping the $8 billion the agency is expected to lose for the second year running as it fights plummeting mail volume.
See UPDATE: THOUSANDS OF RURAL POST OFFICES TARGETED FOR CLOSURE - Former Auburn Postmistress Says It Saves Little Money