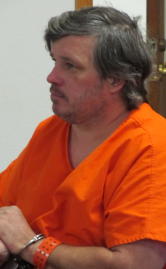 A Calhoun man, Thomas Lee Husk, 45 (pictured right) waived a preliminary hearing Thursday before Calhoun Magistrate Rick Postalwait, the case now being bound over to a grand jury.

Husk, a former Jesses Run resident who now lives on Sugar Camp, has been charged with the June 8 second degree murder of John Dale Cyrus, 45, a WV Department of Highway's employee who lived in the Chloe area.

The court, at the request of Husk's attorney John Oshoway and with the consent of Calhoun Prosecutor Rocky Holmes, reduced Husk's bond from $300,000 to $20,000.

Husk will be placed on home confinement, reportedly in another county, with family members.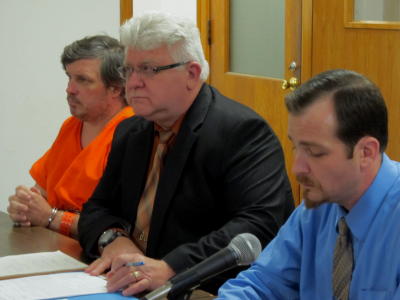 Left to Right: Accused Thomas Husk, Attorney
John Oshoway and Calhoun Prosecutor Rocky Holmes
appear before Magistrate Rick Postalwait
Attorney Oshoway said Husk had no prior criminal record, was not a flight risk, and needed to address a number of health issues. Prosecutor Holmes agreed to the terms.
Oshoway said, the circumstances "clearly show a case of self defense, and there should be a complete acquittal."
Prosecutor Holmes said, "At this time, it appears to be a case of self defense...and does not appear to be premeditated," but stated if the facts change, the charges could be upped.