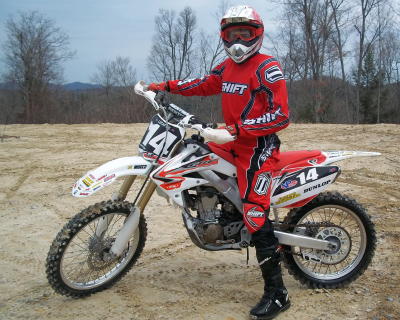 Bike before it was stolen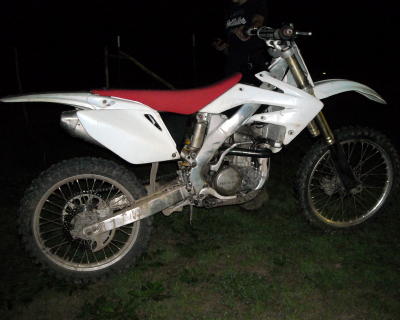 Bike after it was stolen and stripped of parts
A Honda racing bike stolen from the Andy Collins residence on Jake's Fork Tuesday evening was recovered on Jesses Run Wednesday evening.
The bike, belonging to Collins' son Jon, was discovered over the hill a short distance from Liberty Hill (US 33-119) on Jesses Run, stripped of expensive parts.
State Police from the Grantsville detachment were following up Wednesday night on leads regarding the theft of the bike.
Family members said the culprits, who arrived on a four-wheeler, entered the family garage while they were attending the induction of their son into the National Honor Society.
After discovering the missing bike, the family was able to track the bike and rider, which was driven to Jesses Run, Beech and Pink Road, and back to US 33-119, where the bike was loaded on a truck.
The bike is a 2008 Honda CRF 250R racing bike. Among the parts stripped for apparent sale: Yoshimiro dual carbon fiber exhaust pipes, Acerbis hand guards-white (bark busters), Doug Hudson graphic kit, white radiator guards.
If area residents spotted a person riding the bike or have any information regarding the theft, call Trooper Kincaid at 304-354-6334.
The stolen bike is one of several incidents involving thefts or attempted thefts in southern Calhoun during the last two weeks.