By Bob Weaver

Missing 15-year-old Sara Isner is back with her family in Taylor County, and 20-year-old Joshua Duff of Nitro is in North Central Regional Jail facing multiple charges.

Duff and Isner had been missing since Jan. 30, and were the objects of a regional search.

Grantsville, State Police Sgt. O. S. Starsick said a driver spotted Duff walking along Rt. 47 near Burnt House in Ritchie County, picked up the suspect and then called authorities.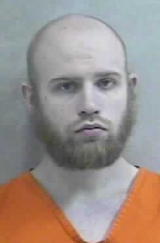 Duff (left) took off on foot and was later spotted at night by Sgt. Starsick, who responded to the area with Trooper J. L. Brewer, assisting the Ritchie County Sheriff's Department.
Starsick said he shined a spotlight on an abandoned cellar house and discovered Duff, who fled the scene pursued by officer Brewer.
"Brewer had a physical encounter with the suspect," Sgt. Starsick said, who indicated difficulty with Duff's apprehension.
"We eventually used pepper spray to restrain him," he said.
Both Duff and the 15-year-old girl are deaf.
"The couple had apparently been staying in the old cellar house," said Starsick, since Duff's abandoned car was found near Linn.
Duff has been charged with two counts of obstructing, two counts of fleeing an officer, trespassing and contributing to the delinquency of a minor.
See related story UPDATED: POLICE FOUND MISSING COUPLE AT BURNT HOUSE