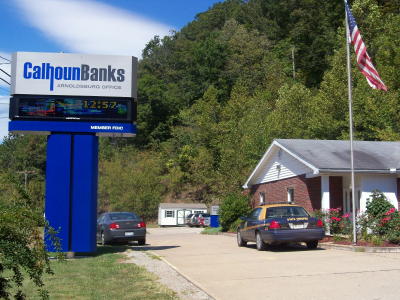 Police respond to Calhoun Banks at Arnoldsburg
By Bob Weaver
A second bank robbery incident struck Calhoun Banks at Arnoldsburg yesterday morning, after Darin Stephen McClain, 25, of Akron, Ohio robbed the local bank of about $15,000 in 2008.
McClain was captured in Ohio a short time later, and was sentenced to 77 months in prison, while two other local residents received sentences as his accomplices.
The 2008 incident was the first recorded bank robbery in Calhoun's history, since 1856.
Yesterday's perpetrator was still at large Monday night.
While State Police do not release public information locally, they have apparently told WSAZ-TV that the ATV was stolen from a Walnut area residence, also indicating the suspect did get money from the bank using a knife during the 9:45 a.m. incident.
Bank CEO Jim Bennett said it was an "attempted robbery," indicating no one was injured, but police later confirmed the culprint got away with cash.
Details of the incident have yet to be confirmed, with Bennett saying the bank will issue a press release Tuesday.
The man left the bank on a blue four-wheeler, his face covered by a "hoodie," and traveled east on US 33/119 toward Arnoldsburg.
Several people reported the man traveled up Spring Run, a small rural road off US-119 in Arnoldsburg.
Photos of the bank robber by the bank's security cameras have not been released to state media.
The last time the bank was robbed in 2008, the bank teller complied with the demands of a note, "where the defendant further threatened the teller's life, expressing that the teller would have 30 seconds to comply or be killed."
See related stories UPDATED: ATTEMPTED ROBBERY REPORTED AT ARNOLDSBURG BANK - Suspect At Large
FLASHBACK: CALHOUN'S FIRST BANK ROBBERY