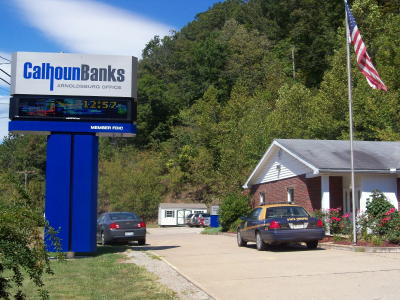 2:45 PM - Calhoun Bank CEO Jim Bennett confirmed there was "an attempted robbery" at the bank's Arnoldsburg Branch this morning. "I am grateful no one was injured in the incident," Bennett said.
Bennett said he would release details of the incident Tuesday.
It was the second robbery incident at the Arnoldsburg branch in less than two years, the first of such incidents occurring in Calhoun County in over 100 years.
Reports say a person on a four-wheeler went to the bank about 9:46 this morning, allegedly displaying a knife, although that could not be confirmed.
It was not learned if the suspect entered the bank.
A report said the suspect fled the bank, traveling east on US 33-119 toward Arnoldsburg.
State Police from Calhoun and Roane County responded to the incident, and was following up on citizen leads connected to spotting an individual wearing camouflage pants and a brown hooded shirt driving a blue 4-wheeler.
The WV State Police do not release public information in Calhoun County.
11 AM - Calhoun and Roane County police are looking for a subject who was allegedly involved in a robbery at the Arnoldsburg branch of Calhoun Banks reported at 9:46 this morning.
While details regarding the robbery are unavailable at this time a person left the bank on a 4-wheeler headed east toward Arnoldsburg on Rt. 33-119.
Wittinesses have been reported as seeing the subject in the Spring Run and later in the Euclid-Nicut areas.
Police are reportedly searching for a man, possibly armed with a knife, wearing camouflage pants and a brown hooded shirt driving a blue 4-wheeler.
Rick Fitzwater of Calhoun Banks said he could not comment about the incident at this time, however the bank has 'closed' signs on the door and there appears to be no current customer activity.