By Bob Weaver 2003

Editor's Note: It was the late John Hartford that first mentioned Blind Ed at an event I was attending. "Where you from?" ask Hartford? After telling him, Calhoun County, West Virginia, he waxed ecstatic about Blind Ed. I had never heard of him. I later was to discover John Hartford had done a lot of research on the old-time musician and was going to write a book about him. His connection to Calhoun County and our mountain music makers is well documented.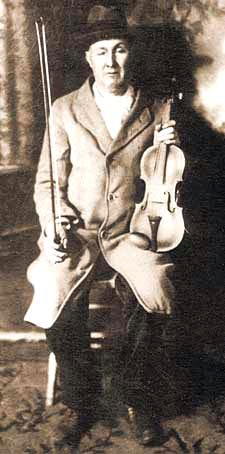 Blind Ed Haley Photo courtesy of Old-Time Fiddlers Hall of Fame
Few people will remember Blind Ed Haley (1883-1951) but he was a frequent visitor to the hollows of southern Calhoun during the early part of the 20th century. An inductee into the old-time Fiddlers Hall of Fame, Haley was never recorded professionally, but his son Ralph made over 100 sides on a home disc-cutting machine. Many of the recordings have been digitally rejuvenated.
One of Calhoun's outstanding fiddlers Lester McCumbers said "I heard tell of him," but his student, young fiddler Jake Krack won a trophy at the "Ed Haley Fiddle Festival" last year in Ashland, Kentucky. Jake met several of Haley's family, he said.
Famous West Virginia fiddler Clark Kessinger considered Haley the finest fiddler he had ever heard, his "fingers seemed to possess a life of their own, as if little men where running across the fingerboard of his violin."
Haley was not particularly vain, but he was well aware he could put "slurs and insults" into tunes that set him apart from other musicians.
Haley and his wife Martha, who was also blind and played the mandolin, traveled to fiddle contests and small towns all over West Virginia and Kentucky, but spent a great deal of time in Sunny Cal mixing with some of the best mountain music makers in the country, many whose descendants still reside up and down the West Fork of the Little Kanawha. Before the depression they often earned $20 a day.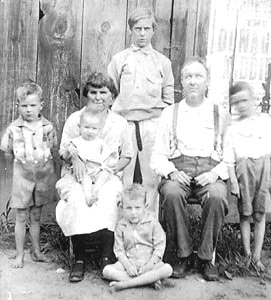 "The Haley Family"
Photo courtesy of Fiddler Magazine
The late John Hartford, who researched Haley's music and wrote extensively about the native of Logan County said "Not only was he born and raised in West Virginia, but he spent a great deal of his time in the Calhoun County area of West Virginia, a hub for great fiddlers and musicians."
Several of his tunes were likely composed in the backwoods of Calhoun, including one called "Down at the Mouth of Old Stinson," probably while visiting his friend Lawrence Hicks, who died in 1937 and is buried on the old Hicks farm one-half mile south of Walker Creek. Another tune was "West Fork Gals." In Hartford's writings, he said "Stinson was rough in those days, a good place to stay away from."
Haley and Hicks made a pact, whoever died first would come to the others grave and play the fiddle. Hicks wanted Haley to play "When Our Lord Shall Come Again," and told him his spirit would linger between heaven and earth until the tune was played.
Lawrence Hicks died during a flood along the West Fork in '37, preventing Haley from arriving on time for the burial. He finally got there and played for hours at his grave site through the darkness of night.
Haley was known for his "irascible moods," particularly when people did not appreciate his music. He was likely to scorn them. Although few musicians of Haley's ilk were recorded on 78's at that time, it is likely his temperament alone kept it from happening. He was always afraid someone would take advantage of a blind man.
Haley's influence has reached far and wide in fiddling circles, and some of his music is now available on CD. He said "sometimes I have wished that someone might pattern after me when I'm dead."
It would be safe to say they are, including young Jake Krack.