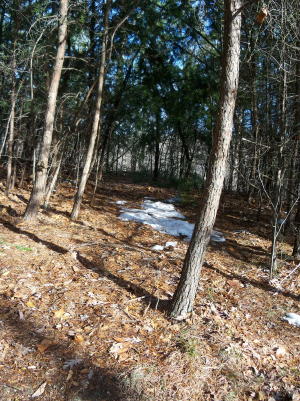 Discovery of skeletal remains just off remote Groundhog Ridge near Creston is causing a widening investigation, the local medical examiner unable to determine if the body had been there "six months, a year or 10 years," also unable to determine sex (Hur Herald Photo)
By Bob Weaver
Police are looking at whether or not an 18-year-old girl missing from Spencer since 2002 could be the skeletal remains discovered by hunters on a remote ridge near Creston, Wirt County.
Christian Dawn Starcher Seabolt left her mother's apartment in Spencer to get a pack of cigarettes and has not been seen since.
Seabolt was known to be acquainted with a number of individuals in Roane, Clay and Wirt counties involved in drugs and murder.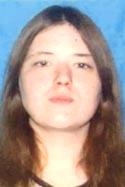 Seabolt (pictured left) was an acquaintance of "Tattoo Vince" Golosow, a Tariff, Roane County man, now serving time for killing Michael Judson Reid, 52.
In 2004, authorities made a drug bust at Creston, arresting several individuals including Russell Davis, who was living in the community at the time.
Davis was an acquaintance of "Tattoo Vince," and present during the murder of Judson Reid.
Davis, who had been dating Reid's daughter, likely traveled the back-roads with others from Roane County that weaves past Groundhog Ridge where the skeletal remains were discovered.
Police observed the delivery of drugs to a trailer along State Route 5 near Creston. They seized cocaine, crack cocaine, pot and pills.
Davis testified in the "Tattoo Vince" murder trial.
The Hur Herald published several articles related to crimes, incidents and drug trafficking that happened in Roane and Clay county, including connections to Clay County's "Murder Mountain."
A sister to Richard Cummings, a man well-connected to the incidents, claimed Christian Dawn Starcher Seabolt was ground-up and made into "bitch burgers," and eaten.
Authorities spend two days at Groundhog Ridge site removing
skeletal remains and looking for clues (Hur Herald Photo)
2004 DRUG ARREST IN CRESTON
Police stopped a vehicle in Wirt County and arrests were made, including two Michigan men, Robert Henderson and and John Whiteside.
They were charged with possession of illegal substances and forgery and uttering after using false names.
A Huntington woman identified as Barbara McCaffery, a passenger in the vehicle, was charged with misdemeanor possession of drugs.
Russell Davis was arrested and charged with possession.
Wal-Mart employees in Vienna alerted police to an over-buy of supplies used to manufacture methamphetamine and four arrests have been made, including a Wirt County woman.
Sarah Jo McCormick, 29, of Elizabeth was arrested, along with Quentin Blaine Cunningham, 32, of Harrisville, Jason Edward Oliver, 24, of Pennsboro and Brian Eugene Leasure, 28, of Ellenboro.
When police arrived, they discovered other materials used in the making of the illegal drug.
REMAINS FOUND IN CRESTON AREA
By David Hedges, Publisher
December 23, 2009
thetimesrecord.net
The father of a Spencer woman missing more than seven years believes remains of a body found last week in Wirt County may be his daughter.
Hunters made the gruesome discovery last Wednesday morning in the Groundhog Ridge area, not far from the Roane County line.
"It was in a wooded area about 25 feet from the edge of the road in a pine thicket," Sgt. B.S. Snodgrass of the State Police detachment in Spencer said.
Snodgrass said the find involved what he called "a significant amount" of skeletal remains, along with some pieces of clothing.
"You could tell it had been there a while," he said. "I wouldn't speculate how long."
Police from both Wirt and Roane Counties responded to the scene near Creston, as did the State Police crime scene investigation team.
Wirt County coroner Greg Busch said he could not say how long the body had been in the location.
"I'm not able to determine if it was six months, a year or 10 years," Busch told The Parkersburg News and Sentinel.
Snodgrass said there is no indication the body had been dug up.
"We don't have any reason to think it was buried," he said. "It appeared to have been laying there a while."
Snodgrass said the remains were sent to the state medical examiner's office and later turned over to specialists who will try to determine the identity of the body.
"It may be a month before we know anything," Snodgrass said.
Jesse Starcher of Spencer says, based on what he's heard so far, he suspects it may turn out to be his daughter.
Christian Dawn Starcher Seabolt was 18 on Aug. 31, 2002, when she left her mother's apartment in downtown Spencer to get a pack of cigarettes. She has not been heard from since.
Her father said State Police told her mother, Vikki Hart, that the remains showed signs of bone spurs, an affliction his daughter suffered from.
"If that's true, I believe it is her," Starcher said Monday.
Starcher said his daughter had surgery for bone spurs on her shoulder, and x-rays confirmed she had several on her legs as well.
He said he has not been contacted by police. The newspaper was not able to reach the woman's mother.
Starcher said people his daughter knew had ties to the Creston area.
"The area where they found her, it's no surprise to me," he said.
Although she may be at the top of the list of possibilities, Seabolt is not the only missing person in the state. The State Police Web site lists 20 missing adults, with the oldest case dating back to 1965.
In the immediate area, authorities say the remains were too old to be from a Charleston man who came up missing in Glenville Dec. 11.
Police in Parkersburg do not believe the remains are from a Parkersburg woman, Kimberly Jones, 26, missing since February.
A Clay County woman, Jennifer Sears Belt, has been missing since February 2005. She was 30 when she disappeared after obtaining a domestic violence protective order. Her vehicle was found on coal company property but her body was never located.
Snodgrass said it is not unusual for people to stumble onto remains they believe are human, only to learn later the bones are from an animal. He said that does not appear to be the case this time.
"We're pretty certain it's a human," he said. "We don't know the sex or age or anything like that. It's just kind of a waiting game now."
If it does turn out to be Seabolt, her father said it would provide some closure to the family.
"We wouldn't have to be wondering and worrying," he said.