Waylon Carter of Arnoldsburg has just turned seven and is in a Pittsburgh hospital, after a long wait, receiving transplant surgery for his medical condition described as "short gut syndrome," and is expected to be in extended care for for some time.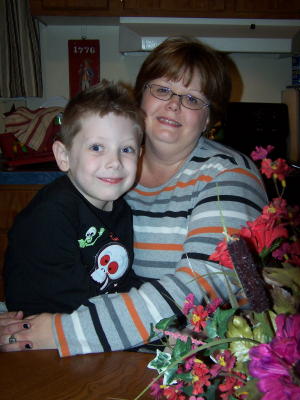 Waylon and mom Shelly Stewart "pulling together"
By Bob Weaver November 2009
Six-year-old Waylon Carter, a resident of Crummies Creek, has had a tough year.
In February, after Waylon attended a party, he got up the next morning seriously ill, complaining of severe pain in his abdomen. He was taken to Minnie Hamilton Health System and then sent to Morgantown. He was placed in ICU.
"His condition was touch and go," said mom, Shelly Stewart, having two emergency surgeries that required the removal of several feet of his small intestine, followed with the insertion of an IV tube to obtain nutrients from a gallon bag of "liquid food" that takes 18-hours of Waylon's day.
Waylon is now suffering from what doctor's call "Short Gut Syndrome," requiring the transplant of several feet of intestine to correct the problem.
That transplant will be done at Children's Hospital in Pittsburgh.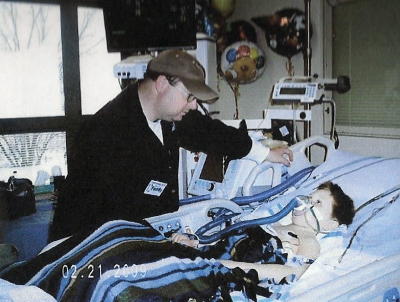 Waylon and dad Phillip Carter during critical hours
In Waylon's case, the family has taken him to Pittsburgh on short alert twice to obtain a transplant, but the intestine donation was unacceptable, said grandmother Joyce Rogers.
The most recent disappointment was in October.
"We don't know when the transplant will happen, tomorrow, next month or next year," said mom Shelly, indicating the surgery will restore Waylon's life to some normalcy.
Waylon, a former Arnoldsburg student, is being home-schooled. He's a straight-A student, plays video games and entertains his two-year-old brother Jeffery. He continues to go to Pittsburgh for frequent physician visits.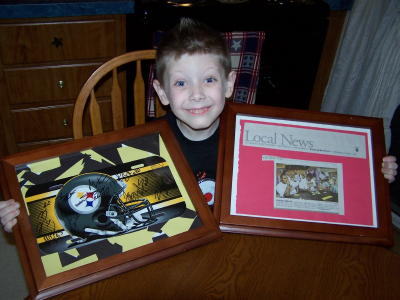 Waylon's mementos from Pittsburgh Steeler rookie
Ziggy Hood, with Waylon appearing on Pittsburgh TV
Waylon's grandparents, Joyce and Gale Rogers, said, "It's one of the hardest things we've ever been through. You learn to never take anything for granted. Life is really short."
There has been some relief from the stress with support from friends, neighbors and community members.
"We cannot begin to express our gratitude to the community for what they have done," said mom Shelly.
Community fundraisers, a dip-and-donate and a basket bingo, have raised about $10,000 to assist with Waylon's medical expenses.
"There have been lots of extra expenses, travel and motels," Shelly said, "but for right now, we're caught up."
"It has taken a lot of pulling together for Waylon, to hopefully give him a better life," his mother concluded.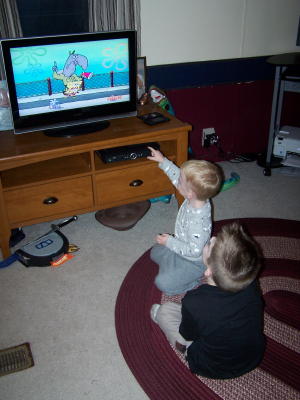 Waylon and two-year-old brother Jeffery watch TV
Waylon enjoys receiving email messages at wgcarter2003@yahoo.com