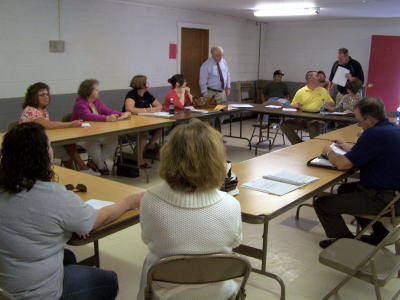 A number of bidders, officials and community members attended
the bid opening for the county's $5.2 million water extension
The Mt. Zion Public Service District opened six bids yesterday afternoon for Calhoun's $5.2 million water project.
The lowest bid, which covers a major part of the waterline extension, was for $3,233,033, submitted by Calhoun businessman Ron Lane.
Mid-Atlantic Storage Systems, a company supplying water storage tanks, was a sole bidder at $319,6000.
Other bids opened:
- Bruce Allen $3,433,065
- FARMCO, Inc. $3,696,065
- Houchin Construction $4,684,775
- Tri-State Pipeline $3,711,150
The bid for Pro-Contracting, Inc. was not announced because the bid lacked an authority clause.
A bid for water storage tanks from Welding, Inc. was declared "not a responsible bidder."
Three companies, B. Miller Excavating, Meadows Stone and Paving and Woodco Pipeline, Inc. decided not to bid.
Consulting engineers Boyles and Hildreth managed the bid openings at the Arnoldsburg Community Building.
The bids will undergo further review, with the actual award to be announced.
Construction on the 29-mile project is expected to begin this fall.