By Bob Weaver

Calhoun Middle-High School has failed to meet No Child Left Behind standards, called Average Yearly Progress, according to Calhoun Superintendent of Schools Jane Lynch.

Lynch was informed about the problem within the past week.

Arnoldsburg and Pleasant Hill Elementary Schools met the NCLB standards.

Earlier this year, the school was issued temporary accreditation, pending further review, related to Department of Education audits done on the school last November and in February or March.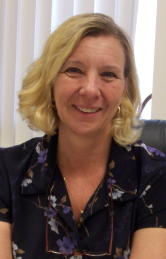 "Still, the school is making considerable progress in most other scoring, including 90-95% mastery in science," said principal Karen Kirby (pictured left). Science is not counted in NCLB standards.
This year 558 out of nearly 700 West Virginia schools met the standards set by state and federal No Child Left Behind legislation.
Calhoun Middle-High School in 2008 was 3% below the 80% graduation rate, or about six graduates short of meeting the standard.
The school also failed to reach the standard in the low socio-economic subgroup for reading, achieving 65% in a category that NCLB requires 75%.
In 2007 the school failed to meet Average Yearly Progress in the reading standards by about the same margin.
In 2006 the school failed to meet the graduation standard of 80% by two students.
Principal Kirby said staff is "working hard on making improvements," particularly since two audits by the State Department of Education earlier this year issued a list of deficiencies.
The school has been issued temporary accreditation, pending further review related to those audits.
Earlier stories regarding audit issues:
SCHOOL BOARD WILL REVIEW CALHOUN MIDDLE-HIGH SCHOOL AUDIT TODAY
CALHOUN SCHOOL BOARD HEARS CM-HS AUDIT REPORT
LATEST PERFORMANCE AUDIT WILL BE TOPIC AT SCHOOL BOARD MEETING
CALHOUN MIDDLE-HIGH SCHOOL RESPONDS TO STATE AUDIT
"URGENCY FOR CHANGE" AT CALHOUN MIDDLE-HIGH SCHOOL
STATE LUKEWARM ON NO CHILD LEFT BEHIND
State Superintendent Steven Paine, according to a press release, is distancing the state school system from the federal No Child Left Behind legislation.
"While NCLB has played an important role in closing the achievement gap, its emphasis on standardized testing does not fully support the skills students need to be globally competitive," Paine said.
Critics of NCLB say it is essentially teaching to the test.
Paine used education-speak in criticizing NCLB: "The WESTEST is but one indicator of student progress...It is important that we balance 21st century assessment practices to include other meaningful measures of student achievement such as benchmark assessments and formative classroom assessments."
West Virginia schools are measured using the state's WESTEST exam to see whether students have made adequate yearly progress (AYP) toward the goals of NCLB. It is administered each spring to all students in grades 3-11.
WESTEST-2 is in the making for WV students, which could change the standards considerably, while NCLB is up for renewal by Congress.
The two presidential campaigns are particularly void of discussion or proposals of how to improve education in America.
SCHOOL SYSTEM MAKING EFFORTS
Principal Kirby said teachers are participating in staff development, one of the shortcomings listed in the audit, and revising the 5-year-strategic plan.
"A new Middle School PTO was started this week, focusing on parental involvement rather than fund raising," Kirby said.
The school has changed from block scheduling to a 7-8 period day, with advocates saying the change will improve academics.
The school's 5th grade is still self-contained, holding to a traditional school model, she said.
"There are lots of bright spots, but the school is obligated to make improvements in areas dictated by NCLB," Kirby concluded.
The Calhoun county report card can be accessed on wveis.k12.wv.us