Consumers around the USA have been victims of scams involving fraudulent cashier's checks, some of which are appearing in Calhoun.

A cashier's check is a check that is issued by a bank, and sold to its customer or another purchaser and are viewed as relatively risk-free instruments.

They are used as a trusted form of payment.

Lately they have become an attractive vehicle for fraud when used for "payments" to consumers.

Although the amount of a cashier's check quickly becomes "available" for withdrawal by the consumer after the consumer deposits the check, these funds do not belong to the consumer if the check proves to be fraudulent.

It could take weeks to discover that a cashier's check is fraudulent.

In the meantime, the consumer may have irrevocably wired the funds to a scam artist or otherwise used the funds - only to find out later, when the fraud is detected - that the consumer owes the bank the full amount of the cashier's check that had been deposited.

A Calhoun lady recently received one of the bogus, but very real looking (over-payment) checks. They are so real looking, banks have been known to cash or accept them for deposit. The checks are counterfeit, says the Federal Trade Commission, but good enough to fool unsuspecting bank tellers. Included was a letter of instruction on what do with the funds upon cashing the check. In this case it's a mystery customer employment scam.

Another known scams is: Someone responds to your posting or ad, and offers to use a cashier's check, personal check or corporate check to pay for the item you're selling. At the last minute, the so-called buyer (or the buyer's "agent") comes up with a reason for writing the check for more than the purchase price, and asks you to wire back the difference after you deposit the check. You deposit the check and wire the funds back to the "buyers." Later, the check bounces, leaving you liable for the entire amount.

Shown below is the check and letter received by a local woman...who did not fall for the scam.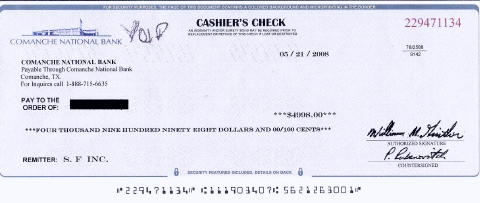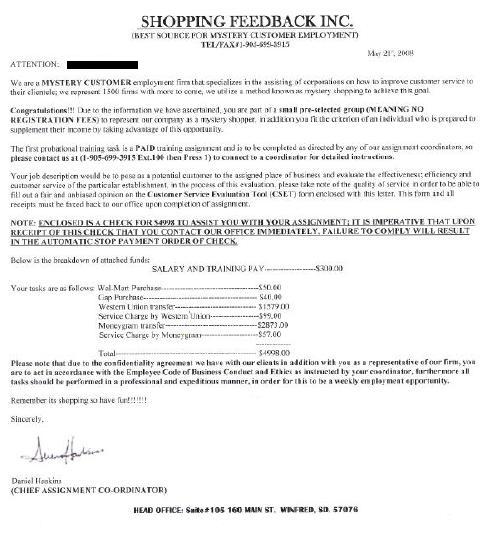 See  OCC Alert
TEXT OF LETTER
We are a Mystery Customer employment firm that specializes in the assisting of corporations on how to improve customer service to their clientèle; we represent 1500 firms with more to come, we utilize a method known as mystery shopping to achieve this goal.
Congratulations!! Due to the information we have ascertained, you are part of a small pre-selected group (Meaning No Registration Fees) to represent our company as a mystery shopper, in addition you fit the criterion of an individual who is prepared to supplement their income by taking advantage of this opportunity.
The first probational training task is a paid training assignment and is to be completed as directed by any of our assignment coordinators, so please contact us at 1-705-770-0454 Ext. 100 then press 1) [Phone numbers may vary] to connect to a coordinator for detailed instructions. Your job description would be to pose as a potential customer to the assigned place of business and evaluate the effectiveness; efficiency and customer service of the particular establishment, in the process of this evaluation, please take note of the quality of service in order to be able to fill out a fair and unbiased opinion on the Customer Service Evaluation Tool (CSET) form at the back of this letter.
This form and all receipts must be faxed back to our office upon completion of assignment. Note: enclosed is an official check for $4,955 [Amount may vary] to assist you with your assignment; it is imperative that upon receipt of this check that you contact our office immediately, failure to comply will result in the automatic stop payment order of check.
below is the breakdown of attached funds:
Salary and training pay ... $300.00
your tasks are as follows: Wal-Mart Purchase ... $50.00
Gap purchase ... $40.00
Western Union transfer ... $1579.00
Service charge by western union....$59.00
Moneygram transfer ... $2870.00
Service charge by moneygram ... $57.00
Total.............$4955.00
Please note that due to the confidentiality agreement we have with our clients in addition with you as a representative of our firm, you are to act in accordance with the Employee Code of Business Conduct and Ethics enclosed with this letter, furthermore all tasks should be performed in a professional and expeditious manner, in order for this to be a weekly employment opportunity.
Remember it's shopping so have fun!!!
Sincerely,
David Hawkins [Names may vary]
(Chief Assignment Co-ordinator)